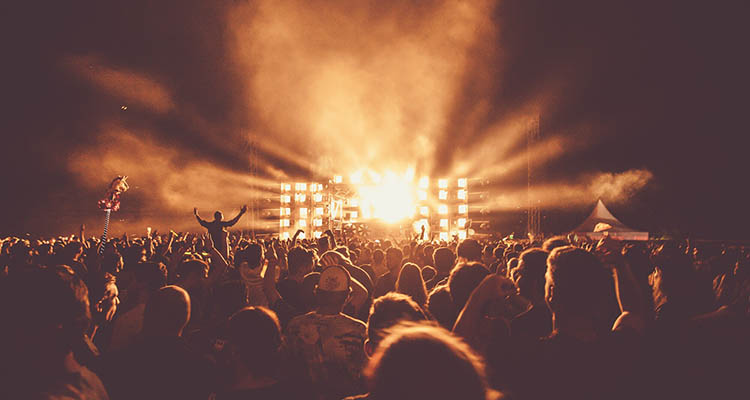 A new study from the Music Venue Trust (MVT) has revealed that live music fans in the UK, despite having a higher vaccination rate than the general public, strongly oppose establishing "certified double vaccination as the sole mandatory condition of entry" for grassroots music venues.
Higher-ups at the London-headquartered Music Venue Trust reached out to Digital Music News with the results of the multifaceted study, which counted as participants 1,891 "people who normally attended live music events" before the pandemic. Additionally, the owners of 221 grassroots music venues responded to questions about the COVID-related safety measures that they've implemented.
On the audience side, the analysis found that 82.1 percent of music-fan respondents had already attended or made plans to attend "a grassroots live music event." 91.3 percent of these attendees had opted "to take an additional personal precaution to support their safety," according to survey organizers, with said precautions including a COVID test, "double vaccination," or immunity developed from a prior infection.
Moreover, 36.8 percent of the sample's attendees had taken more than one of the listed precautions, per the Music Venue Trust, and 76.3 percent of live-music attendees "are double vaccinated," against 61.3 percent for the UK's general population at the time of the survey's completion. (The figure has since approached 63 percent, with close to 72 percent of UK residents having received at least one dose of a COVID-19 vaccine.)
Building upon the point, 91.6 percent "of live music fans will have been [double] vaccinated by the end of September" if they complete their current vaccination program, the text states, compared to an estimated 77.9 percent for the broader population.
Bearing the latter stats in mind, a decidedly small 8.9 percent "of live music fans wanted to see mandatory certification of health status as a condition of entry to grassroots music venues," with this certification presumably involving proof of vaccination or a negative COVID-19 test.
The point is particularly noteworthy because both Live Nation and AEG recently announced that they will require fans at their festivals and venues to show that they've tested negative for or been vaccinated against COVID-19.
Furthermore, the Music Venue Trust's survey likewise determined that a miniscule 2.1 percent "of live music fans wanted to see certified double vaccination as the sole mandatory condition of entry." The figure is worth emphasizing given that some locations and events – including all indoor businesses in New York City and, prior to this citywide mandate, Springsteen on Broadway – have instituted just such a requirement.
Regarding venues themselves, 86 percent of respondent venue owners told the MVT that their establishments are currently open, with a cumulative total of 13,000 shows hosted during the last month or so. Though some two million fans have attended these gigs (for an average of 154 guests per happening), 67.5 percent of venue owners stated that "their advance ticket sales are down compared to their pre-COVID-19" levels.
61.7 percent of venue owners also relayed "that their turn up on the night," including both pre-sale and gate tickets, is down from before the pandemic, while 52.1 percent said that their "bar take" has declined since before the arrival of the bug.
Lastly, the MVT disclosed that medical professionals had diagnosed almost 40,000 COVID-19 cases on Monday, July 19th, when the UK government ended most lockdown restrictions. As of August 16th – with more than a few concerts and music festivals having taken place in the interim – reported COVID-19 cases had declined to 28,438. And "in the local areas around a representative sample of 100 grassroots music venues, case rates declined by 39%," according to the Music Venue Trust.