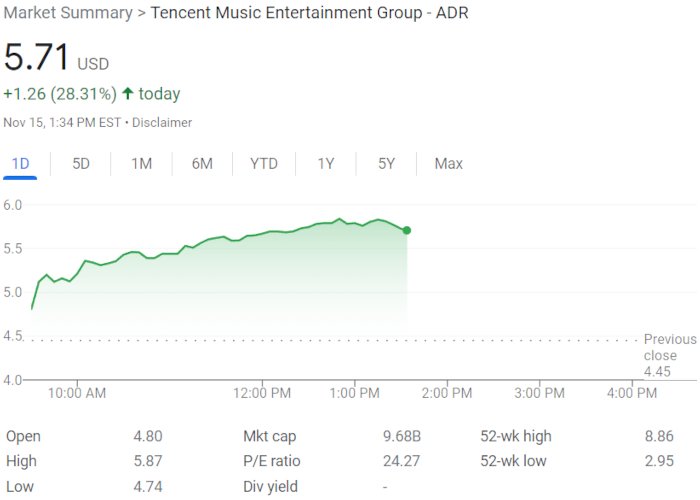 Tencent Music generated CNY 1.09 billion (currently $154.73 million) in net profit during Q3 2022, according to the Shenzhen-headquartered company's latest earnings report.
Tencent Music (NYSE: TME), which operates three China-based streaming services (QQ Music, Kugou, and Kuwo) as well as a karaoke app called WeSing, today posted its performance details for the three months ending on September 30th.
Notwithstanding a continued dip in overall usership – NetEase Cloud Music and the music platform of TikTok owner ByteDance are likewise hunting for listeners – Tencent Music execs relayed that their business's paid userbase had grown by nearly 20 percent from Q3 2021.
Specifically, Tencent Music's mobile monthly active users (MAUs) for online music are said to have numbered 587 million at Q3 2022's end – down about 7.7 percent from the same three-month stretch in 2021. Meanwhile, mobile MAUs for social entertainment (including livestream shows) fell by almost 25 percent YoY to 155 million, according to the breakdown.
But as noted, Tencent Music's paid users for online music improved by 19.8 percent YoY to crack 85.3 million, per the analysis.
Furthermore, average monthly revenue per user in the category declined by 1.1 percent YoY to CNY 8.8 ($1.25 at the moment), the report shows. Also on the premium side, Tencent Music's paid users for social entertainment are said to have fallen by 26 percent YoY to 7.4 million, with 8.2 percent growth nevertheless having upped paid social's monthly ARPU to CNY 177.3 ($25.17).
Higher-ups attributed the online music mobile MAUs slip "to churn of our casual users amid competition from pan-entertainment platforms, as well as cost optimization measures to focus on boosting monetization efficiency as a platform of scale," besides chalking up the social entertainment decreases "to macro headwinds."
Shifting to the financials behind these usership figures, Tencent Music identified CNY 3.43 billion ($486.90 million) in quarterly revenue from its online music offerings, a YoY increase of 18.8 percent, against CNY 3.94 billion ($558.59 million) from social entertainment and other areas (down about 20 percent YoY).
And with Q3 having delivered reductions in both expenses and cost of revenue for Tencent Music, according to the document, the entity posted the initially highlighted CNY 1.09 billion ($154.73 million) in net profit on the quarter.
Elsewhere in the detailed account of Tencent Music's third-quarter operations, company officials disclosed that the digital edition of Taipei-born artist Jay Chou's Greatest Works of Art album, which dropped in mid-July, had "recorded sales of close to 7 million copies by the end of the third quarter."
On QQ Music, the work is priced at CNY 30 ($4.26) and has moved north of 5.95 million copies, the appropriate profile shows, for about $25.39 million in revenue at the present exchange rate. Lastly, the business communicated that its Tencent Musician Platform had "empowered over 350,000 independent musicians" throughout July, August, and September.
In what may well be the most significant takeaway from the earnings report, TME reiterated that it had debuted "a patented voice synthesis technology, Lingyin Engine, to accelerate original content production through technological innovations."
Lingyin Engine had been used to create "over 1,000 songs with AI synthetic voices" as of Q3's conclusion, Tencent Music said – raising interesting questions about the long-term trajectory of the song libraries and royalty payments of QQ, Kugou, and Kuwo, particularly as the Chinese music market continues to grow.
At the time of writing, Tencent Music stock was up 28.31 percent from yesterday's close, for a per-share price of $5.71. According to TME executive chairman Cussion Pang, "as of the end of the third quarter, we had repurchased over $800 million of our stock, pursuant to the $1 billion share repurchase program we announced last year."