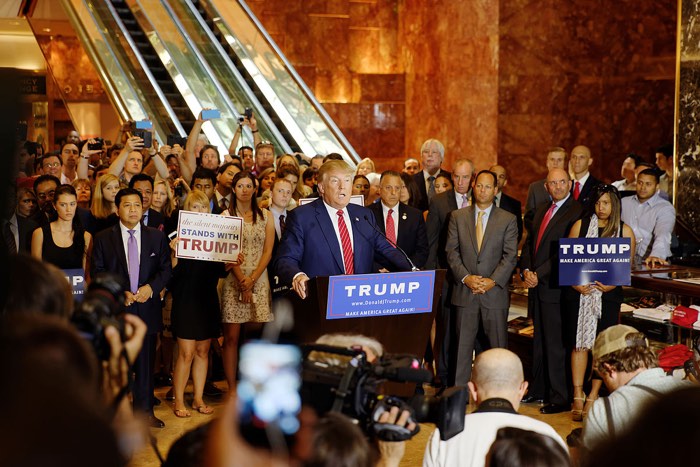 The Rolling Stones are issuing legal threats to Trump to stop playing their music at his campaigns.
The legendary Rolling Stones have asked Donald Trump to stop playing their music throughout his presidential campaign, according to a report by TIME.  Trump, a music enthusiast, has played several of the band's songs, including "You Can't Always Get What You Want," "Sympathy for the Devil" and "Brown Sugar."
Yesterday, (May 4th) a spokesperson for The Rolling Stones released a statement, which reads…
"The Rolling Stones have never given permission to the Trump campaign to use their songs and have requested that they cease all use immediately."
Though it is not a requirement for permission to be obtained by artists to play their songs at political campaigns, it is essential for the venue or political organization to have a license from PROs ASCAP, BMI, SESAC, or GMR.  And for that reason (and unfortunately for the Stones), Trump can easily ignore the legal threat, or even worse, make the band look stupid with it.
That was the case with Aerosmith, who had a similar beef with Trump back in October.  Others are also having similar issues: Survivor recently protested the use of 'Eye of the Tiger' at an anti-gay marriage rally with little result, for example.
There are obvious reasons as to why The Rolling Stones do not want their music associated with the controversial politician, who has been dubbed as a racist and sexist, amongst many other things.  But the only way the Stones can effectively remove their music from Trump's rally is if Trump himself decides to do it.
(Image of Donald Trump speaking at CPAC 2015 in Washington, DC, taken by Gage Skidmore and licensed under Creative Commons Attribution-ShareAlike 3.0 Unported (CC BY-SA 3.0)