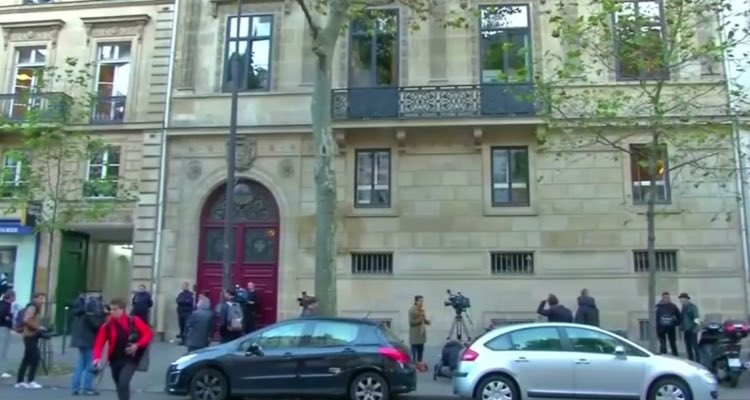 Was it all made up?  That's still a viable question following the high-profile Kim Kardashian heist in Paris.  Now, information from Pornhub adds to the suspicion.
Pornhub's mission to find the criminals behind the Kim Kardashian robbery has now fallen flat.  According to details shared with Digital Music News early this morning, a $50,000 reward for information and tips has not produced any credible leads.  And, zero information that can be deemed 'concrete' or actionable.
Here's a statement that Corey Price, Vice President at Pornhub, shared with Digital Music News:
"While Pornhub has received hundreds of submissions containing leads regarding the case, we've yet to find anything concrete.  As we continue our effort towards finding Kim's robbers, we encourage anyone who has further information to come forward.  We love Kim and are confident those who committed the heinous crime will be brought to justice."
+ Is Kim Kardashian Lying About Getting Robbed at Gunpoint?
The development heightens suspicions of a fabricated tale.  Proof that an actual crime occurred is extremely difficult to determine at this stage, though firm evidence of a crime remains light.  Currently, there are no known suspects or even serious leads from the early October robbery, at least that we've heard.  Paris-based law enforcement and investigators have been quiet on the matter.
At this stage, little, if any, concrete information exists on the reported robbery.
Indeed, even US Supreme Court justice Stephen Breyer has openly questioned whether the crime occurred.  Meanwhile, it seems that the mainstream media has moved on, despite the dead trail.
Back in the US, Kim Kardashian and Kanye West have largely returned to their previous celebrity lives.  Kanye's 'Life of Pablo' tour remains a sold-out success.  And Kim Kardashian is back in action on a renewed 'Keeping Up With the Kardashians'.
Earlier, rumors suggested that the Kardashian reality show was in danger of being canceled due to poor ratings.  The robbery, regardless of its veracity, may have helped to stimulate interest in another season.
+ Kim Kardashian, Kanye West Could Face Criminal Charges Over Paris Robbery
Legal threats from Kardashian lawyers.
Amidst those questions, a legal filing by Kim Kardashian attorneys strongly suggest that the crime occurred.  In mid-October, Kardashian attorneys Andrew B. Brettler, Martin D. Singer, and David B. Jonelis filed suit against Mediatakeout.com, a publication that openly declared the robbery to be a fabricated fraud across numerous articles.  Under penalty of perjury, the legal trio declared to the US District Court for the Southern District of New York that the crime indeed occurred.
Of course, any fabrication by Kardashian, her attorneys, Kanye West, or anyone else involved in the alleged crime could result in serious sanctions.  Those penalties exist in both French and American criminal systems.
The complete legal filing can be found here.
We'll have more information as this develops.