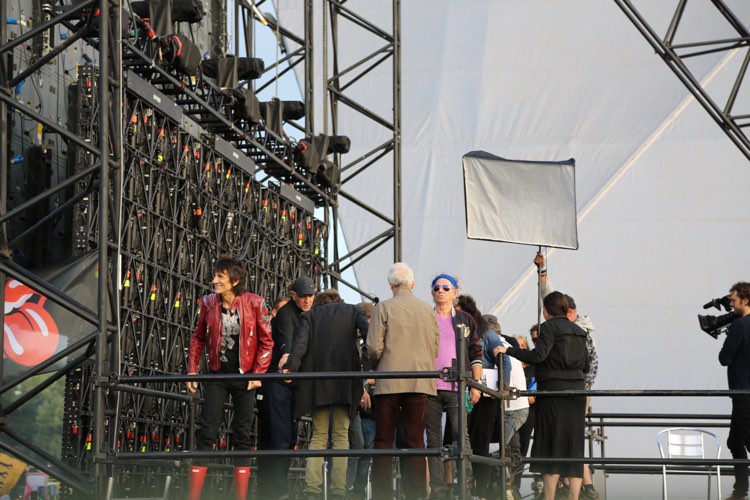 Last week, a source to Digital Music News leaked that the Rolling Stones had been invited to play the Presidential Inauguration.  Now, it appears that the invitation came months ago, and it didn't come from the Trump Administration.
Please note: the following is a developing story. Please check back as we learn more information.
We're now getting a better idea on just how cocky the Democratic Party was heading into Election Day.  According to a connected source disclosing details with Digital Music News over the weekend, it now appears that the Rolling Stones were invited to play the Inauguration back in September.  But the invitation looks like it came from the Democratic Party, Clinton campaign, or both.
That's right: the Democratic Party was so confident of a Hillary Clinton success that they were already planning the celebration party.  In fact, we're also learning that other artists were also being invited to play the Inauguration — for Hillary.
That includes Vince Neil from Motley Crue, who confirmed that he was also invited to play the Inauguration in September.  Neil and his supporting band accepted that offer, and went through Secret Service clearances in preparation for the event.  But after Donald Trump won, Neil was abruptly 'uninvited' from the January procession.
"I didn't know about the Democratic part of asking us to play…"
Suddenly, the puzzle pieces are starting to come together.  In an interview last week, Neil alluded to a Democratic invitation, which would explain a Republican cancellation.  "I didn't know about the Democratic part of asking us to play," Neil stated in a recorded statement to TMZ, without expanding.  Here's what he did disclose:
"Well here's the thing: I was asked to do the inauguration two months ago.  We obviously had no idea who was going to win.  And I said absolutely, I wanted to play the Inauguration.  We gave all of our passports for the band and crew to the Secret Service.  They went through everything, and as far as I know from that, we were playing."
"So we were invited, but it turns out that when the Republicans won, we were uninvited."
Other artists may also have been extended invitations by the Democratic Party, including Hillary supporters like Bruce Springsteen, Katy Perry, and Lady Gaga.  But, to clarify, we haven't heard anything on those performers.  Indeed, the cast of superstar musicians supporting Hillary was deep, though none of them are likely to play a Trump celebration.
As for the Rolling Stones, an invitation from Donald Trump seemed unusual.  For starters, the band had been protesting his use of "You Can't Always Get What You Want" throughout his campaign.  And Trump didn't seem to care.
Either way, the leaks surrounding the Inauguration planning process may speak volumes on Clinton's overconfidence.  Indeed, some pollsters predicted a Hillary victory by a margin of more than 80%, with many expecting a rout.  Even Hillary herself planned a lavish post-election party, with stunned supporters having difficultly believing the Trump reality.
The Rolling Stones have not responded to a request for comment.