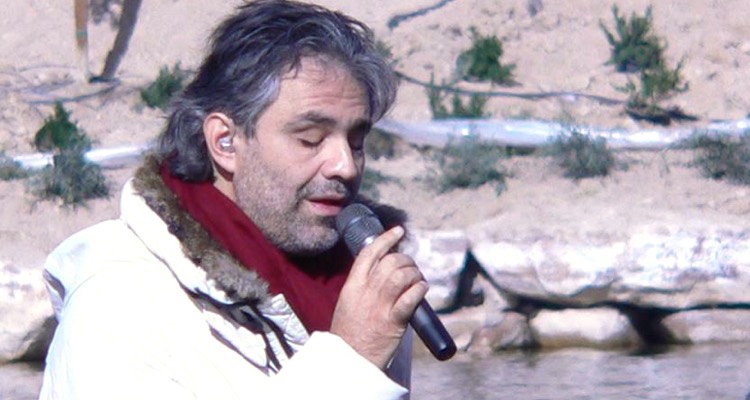 Andrea Bocelli, considered one of the greatest living tenors, will play Donald Trump's Inauguration in January.
Amidst reports of difficulties getting artists to participate, a big name has now said 'yes'.  Andrea Bocelli, easily one of the operatic greats, will help President-elect Donald Trump transition into the Presidency on January 20th in Washington, DC.
Joining Andrea Bocelli will be Jackie Evancho, a B-lister who first gained attention on America's Got Talent.   The 16 year-old Evancho confirmed her appearance on the Today Show, noting that she was 'excited' to play the event.  "This is going to be awesome!" Evancho noted.
And what about Andrea Bocelli?  Enter Jackie's mother, Lisa, who has now confirmed that Evancho would be singing a duet with the famed tenor to TMZ.  According to that report, Bocelli will be singing a duet with Evancho, as well as a solo piece.
Trump is rumored to have dialed up Evancho personally to secure her spot at the bash.  That follows a report in the New York Times of lavish Inaugural plans by Trump, including a proposed ticker tape parade down New York's 5th Avenue.  That would be followed by a dedicated helicopter ride to Washington, DC, a first for an Inauguration.
Those elaborate plans were nixed, according to the Times, over security concerns.
Other short-listers.
The Evancho/Bocelli news follows rumors of other high-profile stars.  Garth Brooks remains a favorite, but the country legend said he hasn't been invited.  Other possibilities include staunch Trump supporters Kanye West and Kid Rock.  West has been publicly supporting Trump since his win; Rock even released a pro-Trump line of merchandise with the support of Warner Bros. Records.
+ Warner Bros Records Calls Pro-Hillary States 'Dumbfuckistan'
Definite 'nos'
Others have either flatly rejected offers, or been rejected themselves.  Elton John, mentioned as a lock by a Trump aide, vehemently denied any intention of playing a Trump Inauguration.  Vince Neil, who was apparently offered a slot by the cocky Democrats, was abruptly uninvited after Trump's win.
Others seem open to the gig, but only with a big paycheck.  The Wrap has been reporting that most artists are declining invitations, at least without huge payouts involved.
Ne-Yo offered to play the Inauguration while sticking his middle finger into the air.