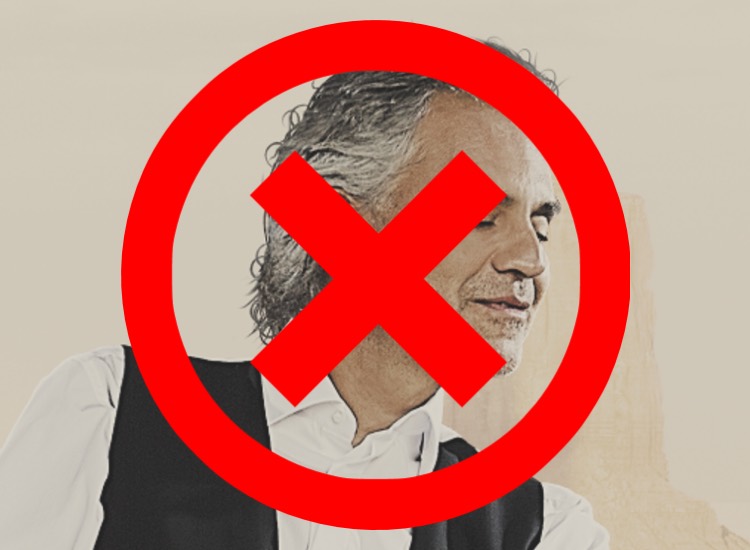 Is Andrea Bocelli committing career suicide?  Activist fans are now going into overdrive to prevent a performance at Donald Trump's upcoming Inauguration.
On the heels of a meeting between Andrea Bocelli and Donald Trump, a core group of fans are going into full-blown activist mode.  The meeting, reported by Digital Music News on Friday, was not confirmed by either camp.  But the pair likely discussed details of the upcoming Presidential Inauguration on January 20th.
Now, Andrea Bocelli fans are trying to dissuade the operatic tenor for taking the gig.  Over the weekend, fans took to Change.org to gather signatures and persuade the singer that a Trump Inauguration would be a very costly move.
"Please consider that if you perform at the Trump inauguration, you will lose the admiration of millions of Americans," the petition warns.  "You will also lose the respect of millions of others around the word.  I personally will never buy another Bocelli CD/DVD."
Bocelli is a long-time friend of Donald Trump, but that association could be proving toxic.  "To sing at the inauguration of  man who is the antithesis of all that is good in the world states that you agree with his racist, bigoted, misogynistic, anti-environment platform," the petition continues.  "So far, every performer of merit has turned him down.  Even the marching bands in DC, who have participated in all elections regardless of party affiliation, have refused to participate."
"Please do not support this man by lending him your voice."
The Change.org petition was posted this weekend, and is rapidly reaching 1,000 signatures.  That could snowball into the tens of thousands, depending on Bocelli's next moves.
The pressure on Bocelli follows a quiet refusal by Garth Brooks, considered a top choice.  Others, including super-producer David Foster and Elton John, have also said no.
That opens the door for more 'red state' singers like Kid Rock and Ted Nugent to play the affair.  Just recently, Kid Rock and label Warner Bros. Records teamed up to create an aggressively pro-Trump, 'f-you' themed merchandise line.   Whether Trump is trying to move away from that aggressive, 'us vs. them' style is unclear, but we've heard nothing on a Kid Rock invite.
So far, only 2010 'America's Got Talent' runner-up Jackie Evancho has formally agreed to perform.  Evancho didn't win the competition, but as Saturday Night Live quipped, she did win the 'America's Got Talent' Electoral College.