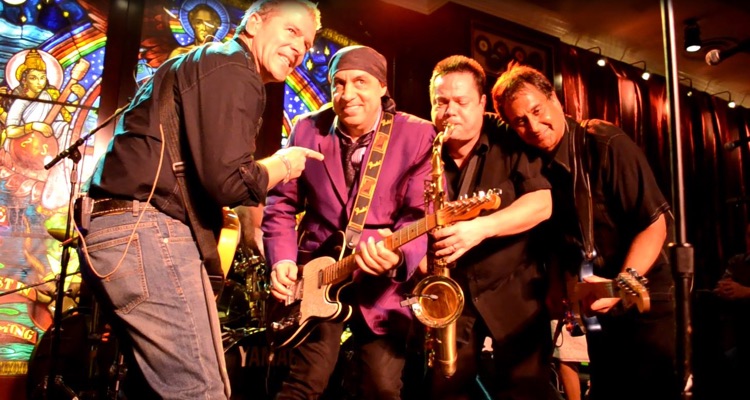 What do you do if Bruce Springsteen hates your guts?  Find the next-best thing!  Introducing the 'B Street Band,' now playing at your local Inauguration.
The 'B Street Band,' a Bruce Springsteen cover band that fittingly hails from New Jersey, will play a pre-Inauguration party alongside a number of relatively unknown groups.  Even more fittingly, the group will play the 'Garden State Gala' to celebrate Jersey, with Governor Chris Christie the 'honorary chair'.
The actual Bruce Springsteen notoriously hates both Donald Trump and Christie.
The 'Garden State Gala' is one of several theme-focused parties leading up to the 'big event' on January 20th.  Other performers at pre-Inaugural balls include  'The Reagan Years,' an 80s cover band, and 'DJ Freedom,' mixing all your patriotic beats.  Hey, not exactly the Beach Boys, Elton John, or Garth Brooks, but these guys will do the trick.
+ Trump Inauguration Committee Stupidly Invites Charlotte Church. Here's Her Response…
Meanwhile, the Trump Inauguration Committee is getting a lot of other rejections, most recently Charlotte Church, Moby, and Rebecca Ferguson.  And maybe it was smart for them to skip the Springsteen invitation, after all.  "The republic is under siege by a moron," Springsteen told Rolling Stone back in September. "It's a tragedy for our democracy."
The night before the election, Springsteen played a Hillary Clinton rally in Philadelphia.  Guess the 'B Street Band' personifies all things Bruce, except for his politics.
B Street Backlash!
As for the B Street Band, the Trump gig probably means a lot of cash.  This is just a band playing gigs, and doing pretty well.  A quick look at their site shows a full itinerary of casinos, parties, and other fun events.   But even the B Street Band is now battling a backlash, with irate fans questioning their allegiances.
In response, the group noted that the Garden State Gala isn't a partisan event.  Instead, it was apparently coordinated months before the election, possibly with the 'presumptive' Democrats prematurely arranging the party.  Indeed, Team Hillary may have actually been that cocky. Just after Trump won, Vince Neil received a suspicious 'un-invite' to the Inauguration, and alluded to an invitation from Clinton Democrats.
+ A Complete List Of All Donald Trump Inauguration Performers (Updated)
The event, a celebration of all things Jersey, was coordinate by the New Jersey State Society, according to the group.  The B Street Band has even offered an official statement, distancing themselves from Trump.
"The B Street Band has performed for both political parties dozens of times, starting with Democratic National Convention events in the 1990s through last summer as featured band at the DNC Block party Philadelphia on July 25, 2016 as well as the N.J. delegates party at the DNC."
Complicating things further, this band actually sounds a lot like the real thing.  Right down to Bruce's voice.  Here's the 'B Street Band' playing at the Stone Pony (of all places):