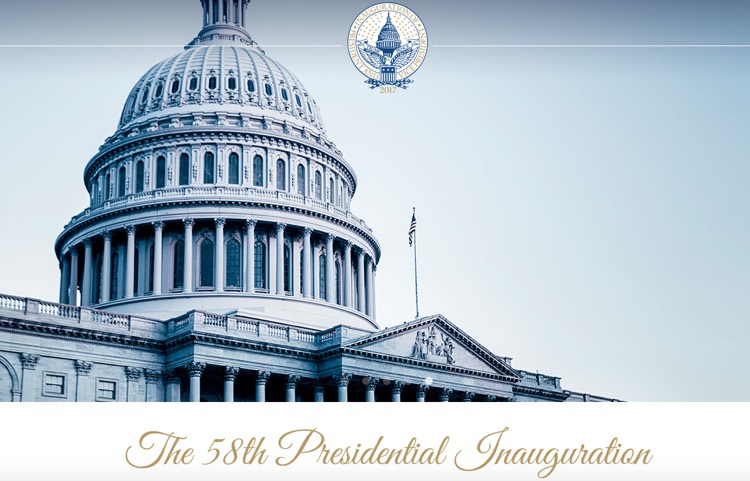 Here's the latest list of confirmed performers for the upcoming Donald Trump Inauguration parade.
Latest changes: Lots of last-minute additions to pre-Inaugural balls, including Sam Moore (from 'Sam and Dave,' see Part V below).  The Piano Guys have definitely not backed out (see statement here).  No major cancellations (as least in the past few days)!
Also: Chrisette Michelle also confirmed earlier Thursday, to howls of protest among African-American fans.  That includes Spike Lee, who cancelled her inclusion in his upcoming Netflix series.  More coverage on that ahead.
---
Part I: The Inauguration Parade.
(Listed in alphabetical order)
Regional Groups
1st Cavalry Division Horse Cavalry Detachment – Fort Hood, Texas.
This is a 'special ceremonial unit' of the US Army, decorated in customized, non-standard regalia.  The group typically performs at ceremonial occasions, like Presidential Inaugurations.
1st Infantry Division Commanding General's Mounted Color Guard – Fort Riley, Kansas.
Boone County Elite 4-H Equestrian Drill Team – Burlington, Kentucky.
Caisson Platoon, Fort Myer – Fort Myer, Virginia.
Cleveland Police Mounted Unit – Cleveland, Ohio.
Coastal Florida Police & Fire Pipes & Drums – Palm Coast, Florida.
Columbus North High School Band – Columbus, Indiana.
Culver Academy Equestrian – Culver, Indiana.
First Troop Philadelphia City Cavalry – Philadelphia, Pennsylvania.
Fishburne Military School Army JROTC Caissons Battalion – Waynesboro, Virginia.
Frankfort High School Band – Ridgeley, West Virginia.
The group officially confirmed its placement in the upcoming Inauguration.  "It is with great pride that we announce that the Frankfort High School Band has been selected to represent West Virginia in the upcoming Presidential Inaugural Parade on Friday, January 20th in Washington, D.C.  We are thrilled and humbled to once again be a part of American history."
Franklin Regional High School Panther Marching Band – Murrysville, Pennsylvania.
Indianapolis Metro Police Motorcycle Drill Team – Indianapolis, Indiana.
Lil Wranglers – College Station, Texas.
Marist College Band – Poughkeepsie, New York
The group has agreed to play, but there has been considerable pressure to cancel.  A former member of the group has now launched a petition demanding that the school cancel; looks like a go, however.
Merced County Sheriff's Posse – Hilmar, California.
This is the only group from California making the trip.  The group is reportedly absorbing the $80,000 cost, but held a successful fundraiser to defray costs.  No protests that we can see, looks like a go.
Michigan Multi-Jurisdictional Mounted Police Drill Team & Color Guard – Ann Arbor, Michigan.
Mid America Cowgirls Rodeo Drill Team – New Buffalo, Michigan.
Equestrian team from Michigan.  Lots of showy horse tricks.  More here.
Nassau County Firefighters Pipes & Drums – East Meadow, New York.
North Carolina Vietnam Helicopter Pilots Association – Hillsborough, North Carolina.
NYPD Emerald Society Pipes & Drums – East Moriches, New York.
Olivet Nazarene University – Bourbonnais, Illinois.
Palmetto Ridge High School Band – Naples, Florida
The group was $100,000 short of the funds necessary to make the trip, but it looks like a Fox News feature changed that.  At this stage, it's not clear if they will attend given that they've raised only a modest percentage of the funds.  They're still listed; no word back from the Inaugural committee.  Here's the group's GoFundMe page.
+ Florida Marching Band Agrees to Play the Inauguration; Trump Refuses to Pay Their Costs
Russellville High School Band – Russellville, Arkansas
Another green light. The band has confirmed to DMN that they will be there.
Talladega College Band – Talladega, Alabama
The all-black university band has ruffled feathers among students and alumni alike, but this is definitely a 'go'.  The band has raised more than $350,000 to make the trip… and counting.
Texas State University Strutters – San Marcos, Texas.
The Citadel Regimental Band & Pipes and Summerall Guards – Charleston, South Carolina.
The Freedom Riders – Kersey, Colorado.
Tupelo High School Band – Tupelo, Mississippi
The group has informed DMN that this is a go.  Coordinator Jason Cross says they have the money, and it's all down to the details at this point.
University of Tennessee Marching Band – Knoxville, Tennessee.
The band is currently facing protests against its decision to play the Inauguration.  But the group insists this is 'not about politics' and is moving forward.  Onward ho!
VMI Corps of Cadets – Lexington, Virginia.
West Monroe High School Marching Band – West Monroe, Louisiana.
National Groups
American Veterans – National.
Boy Scouts of America – National.
US Customs and Border Protection Office of Field Operations – National.
Disabled American Veterans – National .
Paralyzed American Veterans – National.
Tragedy Assistance Program for Survivors– National.
US Border Patrol Pipes & Drums – National.
Wounded Warrior Project – National.
Kids Overseas– National.
Each branch of the United States military will also be represented.
---
Part II. Marquee Performers
Toby Keith.
Just confirmed (Jan 13th).  Will lead a "Make America Great Again!" concert on the steps of the Lincoln Memorial.
+ A Major Country Star Agrees to Play Trump's Inauguration (And It's Not Garth Brooks)…
Jackie Evancho.
The main singer.  Evancho, a semi-finalist on America's Got Talent, will sing the 'Star-Spangled Banner' to close out the swearing-in ceremonies.
The Mormon Tabernacle Choir.
The Choir is a longtime Inauguration participant, though this is not without controversy.  The show is happening, though at least one member has publicly quit.
The Rockettes
They are confirmed despite massive in-fighting and resistance.  A large number are refusing to perform.  Despite vocal complaints against Trump, the group itself has been accused of extreme racism against black and darker-skinned performers.
+ The Rockettes: "One of the Most Racist Organizations in American Entertainment"
Performers for the 'Make America Great Again! Welcome Celebration'
The main concert; situated on the steps of the Lincoln Memorial.
3 Doors Down, Lee Greenwood, Jennifer Holliday,  Jon Voight, The Piano Guys, RaviDrums, 3 Doors Down, and The Frontmen of Country (featuring Tim Rushlow, former lead singer of "Little Texas", Larry Stewart of "Restless Heart" and Richie McDonald of "Lonestar").
Update 1/14 11:00 am: Jennifer Holliday has now pulled out under heavy pressure.  More details here. 
More from the Inauguration coordinators: "The Make America Great Again! Welcome Celebration is produced and directed by Emmy Award winners and nominees. For the first time ever, this inaugural event will be a fully produced broadcast event freely available to all U.S. networks, and features the first planned remarks by the President-elect in Washington, D.C. The Make America Great Again! Welcome Celebration will also be a pooled event."
---
Part III: Performers for the ' Voices of the People' Concert:
DC Fire Department Emerald Society Pipes and Drums
King's Academy Honor Choir
The Republican Hindu Coalition
Montgomery Area High School Marching Band
Marlana Van Hoose
Maury NJROTC Color Guard
Pride of Madawaska
Webelos Troop 177
Northern Middle School Honors Choir
American Tap Company
South Park and District Pipe Band
Everett High School Viking Marching Band
TwirlTasTix Baton Twirling
Celtic United Pipes and Drums
More on all of the above events at the Trump Inaugural website. 
---
Part IV. Various Pre-Inaugural Ball Performers
(all of these performers are playing various parties pre and post; more details here).
The Reagan Years (80s cover band).
B-Street Band (Springsteen cover band). update 1/16: cancelled under heavy pressure (more details here). 
DJ Freedom.
The MIXX ('party band')
Beau Davidson (singer)
---
Part V. Other Inaugural Balls.
Liberty and Freedom: The Official Presidential Inaugural Balls
From the Inauguration Committee: "Liberty and Freedom: The Official Presidential Inaugural Balls will take place at the Walter E. Washington Convention Center and, for the first time ever, the Presidential Inaugural Committee will provide all television networks the right to freely air the live two-hour show simultaneously in both balls, allowing Americans throughout the country to watch the President's remarks and first dance with the First Lady."
Performers:
Sam Moore
Tim Rushlow and his Big Band
Silhouettes
The Rockettes
Pelican212
The Piano Guys
Circus 1903
Cache Olson
Lexi Walker
Erin Boheme.
The Salute to Our Armed Services Ball
Performers:
Tony Orlando
Josh Weathers
---
Part VI. Artist Declining Invitations to Perform.
(that we know of…)
Elton John.
Andrea Bocelli.
David Foster.
Charlotte Church.
Garth Brooks.
Celine Dion.
Rebecca Ferguson.
Moby.
The Beach Boys.
DC-area Marching Bands (all declined)
George Lopez.
The B Street Band.
Jennifer Holliday.
KISS.
Paul Anka.
R. Kelly.
More details as they come in!