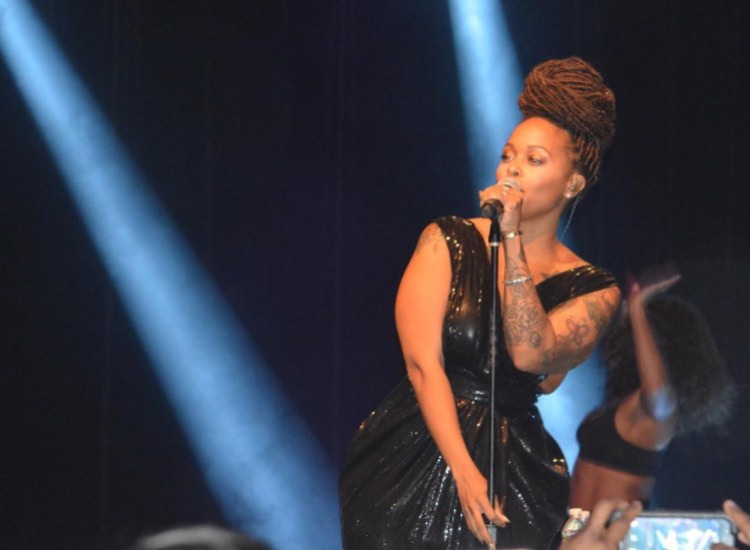 What's the cost of playing Trump's Inauguration?  For Chrisette Michele, it's a major lost opportunity involving Netflix. And that's just the beginning.
3rd Update, Friday late evening.  A new (unconfirmed) report says Chrisette Michele is being paid $250,000 to play a Donald Trump Inaugural Ball.  The singer didn't appear at the 'Make America Great Again' concert on Thursday night.  But it's now confirmed she played the private 'Liberty Ball,' one of three special events surrounding the Inauguration.
Separately, it also appears that Michele was slated to appear alongside an r&b group that fell apart due to cancellations.  Stay tuned for more updates.
Jennifer Holliday cancelled her Trump Inauguration gig after 24 hours.  Even the 'B Street Band,' a Bruce Springsteen cover group, canceled under extreme pressure from fans.
+ Jennifer Holliday Quits Trump Inauguration: 'I Sincerely Apologize for My Lapse of Judgement'
Chrisette Michele, a late-stage addition, decided not to back out.  Now, the talented Grammy-winning artist is testing exactly what that means for her career.  According to information confirmed Thursday night, director Spike Lee has removed Chrisette Michele's song from his upcoming Netflix remake of 'She's Gotta Have It."
Here's Spike Lee's irate Instagram blast on the matter:
"Good Morning Folks. I Wuz Sorry To Read That 'Sistuh Girl' Is Singin' At DT's Inauguration (And To Use His Fav Word-SAD)," Lee wrote on Instagram. "I Wuz Thinkin' 'bout Using Chrisette's Song- BLACK GIRL MAGIC In My Netflix Series SHE'S GOTTA HAVE IT…. NOT ANYMORE. And Dat's Da Truth, Ruth."
$750,000 paycheck?
As for the Trump performance, the gig was first disclosed on Thursday.  That is, less than 24 hours before the starting bell.  According to rumors, that was intentional, with multiple artists kept under wraps to avoid last-second cancellations.  Sam Moore of soul legends Sam & Dave, who just completed his Trump performance on Thursday evening, may also have given similar treatment.
+ Trump Inauguration Committee Stupidly Invites Charlotte Church. Here's Her Response…
But despite the late-stage announcement, Michele fans were overwhelmingly vocal and irate.  After disclosing the gig, rumors circulated that the singer was paid $750,000 to play the show (her manager hasn't responded to DMN).   In Chrisette Michele's private Twitter hell, the singer was accosted for selling out, supporting a racist, and dishonoring black history.
+ All-Black Talladega Marching Band Raises $320,000 to Play Trump Inauguration
On that last point, critics were especially irate over Michele's use of a quotation from Dr. Martin Luther King, Jr., to defend her decision.  Here's the statement that Michele offered, an olive branch that was quickly torched by inflamed protesters:
My heart is broken for our country, for the hopes of our children, for the fights of those who came before us.
I cry at the thought that Black History, American History might be in vain.
This country has had great moments. God has shined His light upon us.
Today, I hope that Great Moments begin in peaceful & progressive conversation.  I am willing to be a bridge, and I don't mind "These Stones", if they allow me to be a voice for the voiceless.
I am here.
Dr. Martin Luther King Jr. once said, "Our lives begin to end, the day we become silent about what matters,".
I am here, representing you, because this is what matters.
Career Suicide?
Chrisette Michele isn't a household name, though she certainly has credibility within r&b and rap.  And you've probably heard her singing on tracks by Jay Z, the Roots, Wale, Nas, Rick Ross, or John Legend, among others.
Now, the question is whether Michele will find herself blackballed by those collaborators in the future.  Indeed, that was a pressing consideration for Broadway star Jennifer Holliday, who quickly backed out after career retribution became a serious possibility.
More as this develops.