Bow Wow (real name Shad Moss) may soon face criminal repercussions for 'issuing threats' against Melania Trump, according to legal experts.
What started as beef between Snoop Dogg and Donald Trump may soon result in felony charges for multiple rappers.  That includes Bow Wow (real name Shad Moss), who risks being slapped with serious felony charges for issuing threats of his own, according to attorneys watching this case.
This all started on Monday when Snoop Dogg released 'Lavender,' which contains a graphic, mock assassination of President Trump.  That drew quick warnings from Marco Rubio and Donald Trump's attorney, before Trump himself demanded prison time for the rapper.
+ Donald Trump Demands Snoop Dogg's Arrest Over Assassination Threats
Whether Secret Service agents are currently interrogating Snoop Dogg remains unknown, with the rapper keeping quiet.  But federal investigations would quickly spread to include Bow Wow, based on the perceived seriousness of the threats issued.
Specifically, Bow Wow blasted this threat against Melania Trump following Trump's demand for Snoop Dogg's arrest.
"Ayo @realDonaldTrump shut your punk ass up talking shit about my uncle @SnoopDogg before we pimp your wife and make her work for us."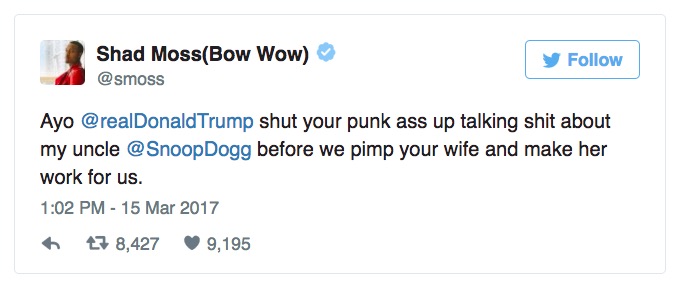 That introduces a number of intentional threats, including kidnapping and forced sexual slavery.  Specifically, 'pimping' would introduce charges for 'inflicting bodily harm' against a First Lady.  All of which violates statutes contained within 'U.S.C. § 879: US Code Section 879: Threats against former Presidents and certain other persons'.
The law specifically calls for felony charges against
"Anyone that knowingly and willfully threatens to kill, kidnap, or inflict bodily harm upon:
(1) a former President or a member of the immediate family of a former President;
(2) a member of the immediate family of the President, the President-elect, the Vice President, or the Vice President-elect;
(3) a major candidate for the office of President or Vice President.  Or a member of the immediate family of such candidate; or
(4) a person protected by the Secret Service under section 3056(a)(6).
Separately, the US Department of Justice has addressed the issue of intent, specifically as it relates to 'political hyperbole' and 'jest'.  And it turns out that actual intent doesn't quite matter.  "Proof that threatening words were uttered in a context such that a reasonable person would interpret them as mere political hyperbole, idle talk, or jest indicates that the words do not constitute a threat within the scope of the statute," the Justice Department notes.
"However, it is the view of the Department that an actual intent to carry out a threat is not a requisite to violation of the statute."
More as this situation develops.