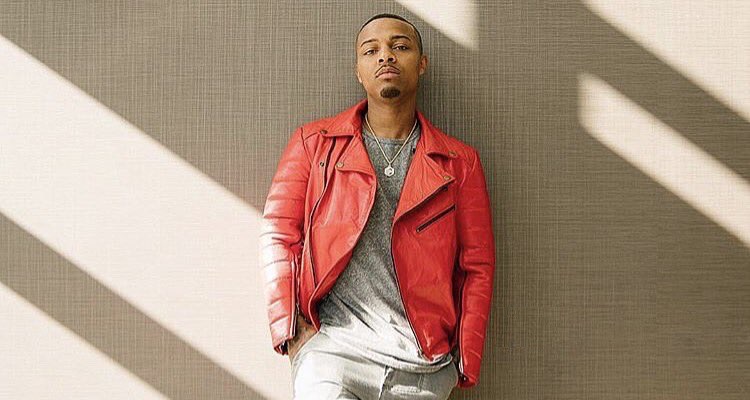 This is getting pretty ugly, pretty fast.  Joining the hostile war of words against Trump is Shad Moss, aka 'Bow Wow,' who just threatened to 'pimp' First Lady Melania Trump.
If you're looking for a revolution, pissed-off rappers might be one place to start.  Now, Snoop Dogg protegé Bow Wow has joined a hostile war of words, with violent threats intensified.
This all started Monday, with felony charges dangling over Snoop Dogg's head.  After a litany of death threats against Donald Trump from rappers like Rick Ross and Big Sean, Snoop Dogg upped the ante with a flat-out assassination video.  The just-released 'Lavender' depicted a close range murder of a Trump-like clown, exactly the over-the-top effect Snoop was looking for.
All of which raised the distinct possibility of federal enforcement action against Snoop.  But ahead of formal charges, warnings came from the likes of Marco Rubio and President Trump himself.  In a pre-dawn Twitter blast, Trump blasted Snoop Dogg as a 'failing rapper' while demanding 'jail time' for blatant assassination threats.
Now, Bow Wow, who was discovered by Snoop Dogg as a kid, is blasting back with equal ferocity.
"Ayo @realDonaldTrump shut your punk ass up talking shit about my uncle @SnoopDogg before we pimp your wife and make her work for us," Bow Wow wrote.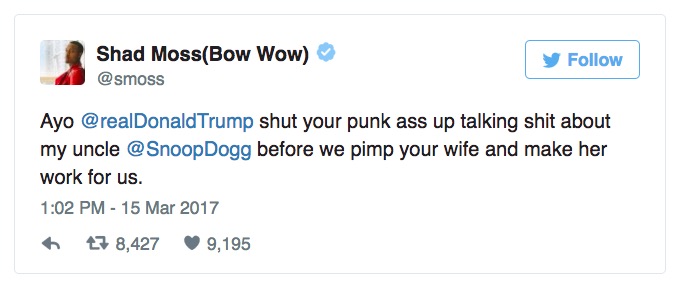 Bow Wow, real name Shad Moss, was actually discovered by Snoop Dogg at the age of 6.  Snoop Dogg even named Moss 'Lil Bow Wow,' and the rest is history.  And, helps to explain why Moss is ferociously stepping in to protect his longtime mentor and friend.
+ Breaking: Donald Trump Demands Snoop Dogg's Arrest Over Assassination Threats
Additional threats are likely to continue pouring in, especially if Snoop Dogg faces charges.  The Bow Wow threats follow an extremely angry response from T.I., who denigrated Trump as a "f—king tangerine tanned muskrat scrotum skin," among other things.
Fun times in America!