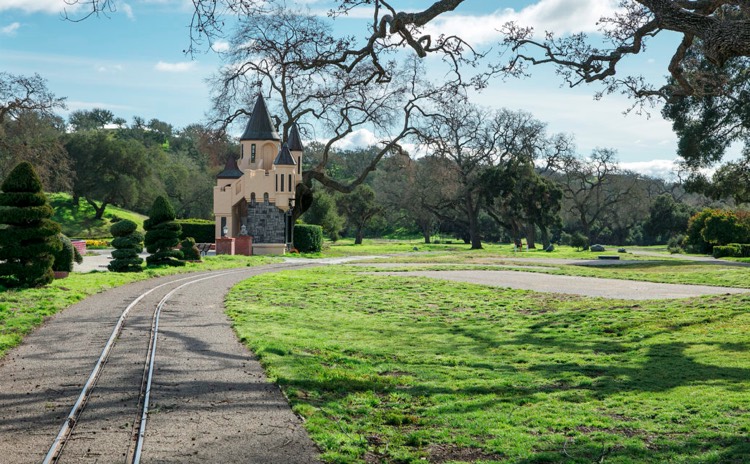 There aren't any tours.  It's forever closed to the public.  And eight years after his death, realtors can't dump Michael Jackson's disgraced Neverland Ranch.
Wealthy real estate buyers sometimes like to own a piece of history.  But when it comes to Neverland Ranch, a dirty legacy isn't proving to be a winning sell.
Enter Neverland Ranch, which is now sitting on the market unsold for months.  That is, even in one of the richest sectors of the United States, where billionaires-a-plenty like to lay down roots.  But anyone touring this Southern California property is undoubtedly wondering, 'could I lay my head down in Michael Jackson's bedroom?'
+ A List of Every Item Discovered by Police In Michael Jackson's Residence (NSFW)
Smartly, real estate broker Coldwell Banker erased the 'Neverland Ranch' name forever, replacing it with more generic 'Sycamore Valley Ranch'.  But it's probably going to take more than a name change to wipe away decades of sordid child molestation accusations.
Currently, Sycamore Valley Ranch is listed for $67 million, a knock-down of nearly $35 million.  That's likely to sink further as buyers remain uninterested.  Prior to 2017, Neverland Ranch was valued at roughly $100 million.
On its face, that sounds like a steal for a sprawling, 2,700 acre property in prime Santa Barbara countryside.  And don't forget the guest houses, tennis courts, horse stables, and stunning views.
+ Was Michael Jackson Just a Dirty Child Molester? A New Lawsuit Says Yes.
The re-named property officially went on sale in February.  Here's a quick description of the property offered by Coldwell:
"A property of quintessential California beauty and rare privacy, Sycamore Valley Ranch formerly known as Neverland Ranch, is both residence and retreat. Three parcels, totaling approximately 2,700 acres, border on historic family ranches and the Los Padres National Forest in Southern California's most unique wine-growing region."
In fact, it may take decades to erase the tarnished past that haunts this property.  Sad, because at one point in time, living in Michael Jackson's house might have been a thrill.  Now, it's fertilizer for creepy nightmares and skittish guests.
Seems like the legacy is simply too dirty for anyone to stomach.   Indeed, eight years after Michael Jackson's death, those allegations are putting a serious stain on the singer's legacy.  Jackson's music remains legendary, and his talent unmatched.  But whenever Michael Jackson's music comes on, there's a lingering thought that dances in the back of one's mind: 'what a sick f—k'.
All of which is a shame, because this is a pretty stunning parcel of land.  Here's a quick list of what lies behind Neverland's gates:
12,598 square foot main residence
2,700 acre property adjoining Los Padres National Forest
16 bedrooms.
29 bathrooms.
A separate lake.
Pool house with 14-foot deep 'lagoon style' pool.
Spacious movie theater.
Dance studio.
Multiple barns.
Horse corrals.
Separate staff facilities.