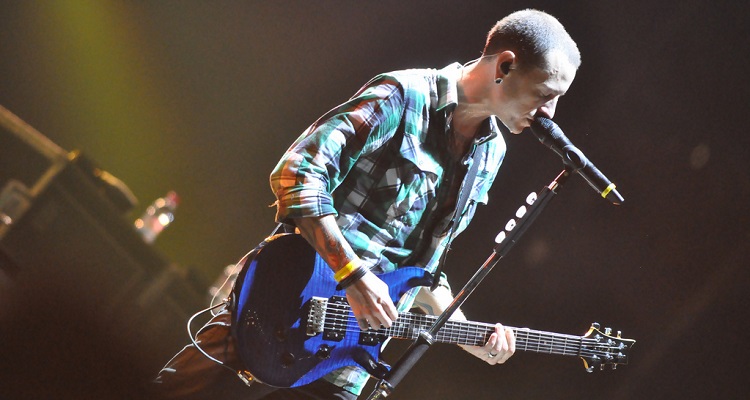 Why are so many musicians killing themselves?  In the wake of Chester Bennington's suicide, and music charity is taking urgent action.
Artists face a tremendous amount of pressure under the spotlight.  Last week, Linkin Park's lead singer, Chester Bennington, made the decision to kill himself.  The singer had long battled with depression.  Now, a music charity in the UK wants to provide support for artists struggling with similar mental health issues.
Earlier today, Help Musicians UK announced their 'Music Minds Matter' campaign.  The campaign aims to provide the world's first dedicated 24/7 mental health service for people working in music.  Help Musicians is the largest provider of health and welfare support for the British music industry.
In a statement on their website, Help Musicians UK wrote,
"Music Minds Matter will fund the ground-breaking 24/7 mental health helpline and service, launching late 2017.  It will combine listening, advice and signposting with clinical, medical, therapeutic and welfare support for those who need it.  The charity remains committed to campaigning, educating, and encouraging conversations about mental and emotional wellbeing."
To fund the program, Help Musicians UK has started the Mental Health Fund.  The music charity invites people to donate through Virgin's non-profit Money Giving platform.  Help Musicians UK adds,
"The charity can then continue to proactively raise money for the new fund, with ambitions for roll out with global partners in the US, Canada, Australia and New Zealand."
Late last year, a Norwegian study found that musicians are three times more likely to face depression.
They struggle with deteriorating mental health and undergo psychotherapy more often than non-musicians.  The study also found that musicians are 50% more likely to use psychotropic medications like antidepressants, antipsychotics, and anxiolytics.
Shortly before his suicide, Chester Bennington went public about his struggle with depression.  In a conversation with Music Choice, he stated,
"My whole life, I've just felt a little off.  I find myself getting into these patterns of behavior or thought – especially when I'm stuck up here [in my head];  I like to say that 'this is like a bad neighborhood, and I should not go walking alone.'"
Speaking about the inspiration behind the song 'Heavy,' Bennington added,
"Most of my problems are problems that I cause myself.  That's what that song's about – that time when you consciously look at that.  Once you acknowledge what it is, you can separate yourself from it and do something about it, as opposed to just being in it."
Bennington didn't leave a suicide note.
His suicide came on the same day that Soundgarden singer Chris Cornell would have turned 53.  Shortly after police confirmed that Cornell had committed suicide, Bennington wrote a personalized message to his former colleague.
 "I can't imagine a world without you in it.  I pray you find peace in the next life."
The pair had previously toured together.  Bennington was also godfather to Cornell's son, Christopher.
Like Chester Bennington, Cornell had also dealt with depression.  Years before committing suicide, he opened up about his struggle with Men's Health magazine. He stated,
"I was depressed for a long time. If you're depressed long enough, it's almost a comfort, a state of mind that you've made peace with because you've been in it so long.  It's a very selfish world."
Vicki Cornell, the singer's widow, has since stated that Chris didn't willingly commit suicide.  Rather, prescription drug medicine Ativan had pushed him to take his own life.  According to medical literature, Ativan's side effects include slurred speech, impaired judgment, and paranoid or suicidal thoughts.
Brad Pitt, a close personal friend of Chris Cornell, has since stepped in as a protective second father for the singer's three children.
Chester Bennington left behind six children, a family, and millions of fans.  Brian 'Head' Welch, Korn's guitarist, has since blasted his old friend's suicide as a 'cowardly way out.'  He has admitted to struggling with depression and mental illness in the past.
The Music Minds Matter campaign has gained support among high-profile musicians, some of whom have toured and performed with Chester Bennington.
Currently, the fund has raised £90 ($117).  The music charity hopes to raise £100,000 ($130,290).  If it reaches £200,000, the program will remain sustainable beyond 2018.
You can view and support the campaign here.
Image by suran2007 (CC by 2.0)