In a baffling attack on DJ Khaled, Jack White has argued that his 2017 pop smash "Wild Thoughts" is an exact copy of Santana's "Maria Maria".
Jack White's exact claim was that DJ Khaled's "Wild Thoughts" is "just Santana's song in its entirety". But sadly for the former White Stripes general, nobody ever really contested that.
Because the minute DJ Khaled's remake hit the airwaves last June, it was glaringly obvious what had happened. Santana's crisp guitar riffs and Wyclef Jean's groovy, Latin-inflected beat from the original had just been reincarnated.
Rihanna's sultry vocals and Bryson Tiller's fuss-free bars provided the extra spice needed to create an instant contender for song of the summer.
"Wild Thoughts" doesn't just sample "Maria Maria". It is practically a cover that uses a different set of lyrics. And fortunately for the We The Best magnate, he has never tried to tell anybody any different.
Santana's "Maria Maria"
Dj Khaled's "Wild Thoughts"
One would shudder to imagine that, in an age where copyright lawsuits are seemingly being filed for fun, DJ Khaled used Santana's hit without first having sat all the principals around a table.
But the hotshot beat-maker was as prudent as they come. He obtained all the necessary clearance and even got said principals to co-sign his table-topping remake.
In short, it's obvious "Wild Thoughts" is practically "Maria Maria". Nobody has an issue with it. Not the 600M+ viewers who flocked to Youtube to watch it, and certainly not the creators of the original.
Santana, Wyclef Jean and The Product G&B are all credited on "Wild Thoughts". While giving the new song his blessing, Santana said:
"There is a reason that the infectious groove/theme that Wyclef and I created on 'Maria Maria' still resonates today. It speaks to the heart. DJ Khaled, Rihanna and Bryson take that vibe and bring it to a new dimension with 'Wild Thoughts', but the groove and essence of the song is still intact."
In essence, what he meant was that he was happy DJ Khaled and co. hadn't made too many adjustments to the song. He went on to add:
"I am honored that DJ Khaled, Rihanna & Bryson felt the intense intentionality of 'Maria Maria' and have shared this summer vibe with the world."
So then Santana is actually glad "Wild thoughts" is "just 'Maria Maria' in its entirety". Not only has the x-factor that made the 1999 release such a sensation been preserved, but also it's been shared with an entirely new generation of music fans.
+ Jack White Is Banning Phones at His Shows — Fans Will Have to Keep Them In Sealed Pouches
By dissing DJ Khaled for achieving what he specifically set out to do, Jack White has simply played himself. If he had any appreciation of the Miami DJ's art, he'd know that's something to never, ever do.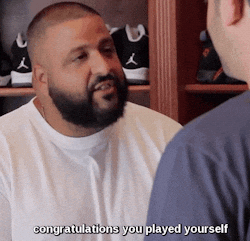 ---