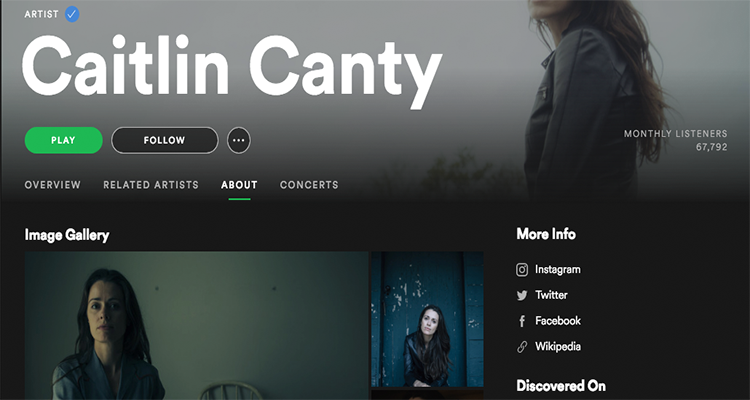 Artists can now put social media profiles, tour dates, and image galleries into Spotify. But why no website links?
Spotify has an extremely intuitive user-interface. It's easy to use, effective, and extraordinarily simple. Additionally, fans are able to follow the artists they follow on the platform elsewhere on the web. They can follow them on Twitter, Facebook, Google+, and read their Wikipedia pages.
But they can't visit the their website because, well, Spotify hasn't added that feature yet. And they may never add it.
Spotify for Artists gets new features
Last week, Spotify announced that artists are now able to add their Facebook, Twitter, Instagram, and Wikipedia pages to their profiles. They can add these elements through the web application. Mobile-based uploading or editing is not yet available.
Many larger artists still haven't added their social profiles (do they really need to?) to the platform just yet. However, a few smaller independent artists have. Caitlin Canty is a good example. 
The social media links populate on the About section on the artist's profile. Spotify says that this feature satisfies "the curiosity of any listener who's hungry to know where you were born, what scenery is inspiring your music, or what you had for breakfast." That sounds a lot like Facebook and Instagram.
Is Spotify trying to become a social media network?
It might be. In the Spotify for Artists web application, artists can upload up to 125 images from concerts, press images, or whatever they deem their audience needs to see. It's still missing a slew of features that the typical social media network contains, but it's slowly getting there. 
These newly added features are probably a move to make the already interactive and personal platform even more interactive and personal.
Why haven't they added the feature for artists to link their websites?
I'm going out a limb here, but maybe Spotify doesn't want its users heading to artist's website, as they often allow streaming of their albums right on the site. These fans are then able to purchase the single, EP, and/or album directly through the site and receive a direct download. This eliminates the need for their service.
As we know, physical product like CD and vinyl sales are on the rise. Artists are, however, still proactive in providing Spotify links, as it is one of the most used streaming platforms. 
Meanwhile, Spotify's free tier is getting even freer
Recently the platform announced that it's redesigning its free tier. The current free tier is chock-full of advertisements and has limited playback options. The revamped free tier will be easier to use, "especially for customers on mobile phones." In addition, it's working on hardware that's specific to automobiles but will cost you $15/mo.