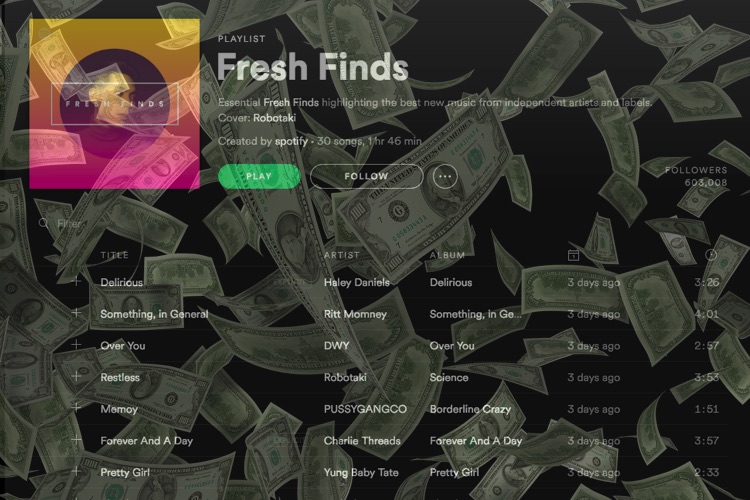 The right Spotify playlist can jump-start a career.  But you'd better feed the beast right, or your slot could be short-lived.
Last time we checked, there were more than 2 billion playlists on Spotify alone, with roughly 2 million new ones are added daily.  But only a tiny percentage of those playlists really matter, and truly have the power to change an artist's career.
So what happens when your music, or music that you've been working, suddenly lands on a heavily-followed Spotify playlist?  The answer is to take immediate action, or risk losing that slot as quickly as it was gained.
That's the tough love coming from AWAL's Senior Director, Amelia Bonvalot, who described the simple mechanics that dictate playlist placement.  "Tracks move up or down on playlists depending on their performance because [editors and curators] see that people are more likely to listen to something that is doing well," Bonvalot said.
(By the way, if you're still trying to get into a playlist, read this guide first).
That's only part of the picture, however.  In the murky back-dealings between Spotify's editors, playlist slots are often horse-traded by influential labels and managers.  There's even strong evidence of outright 'playlist payola,' though random acts of playlist happiness certainly occur for trending artists.
Once that happens, the game plan is to keep the slot as long as possible.  Basically, you are now serving the Spotify gods, and pushing as much targeted heat as possible towards their platform.  That's the game, though there are plenty of pitfalls and random accidents (both good and bad).
Here's are a few pro tips to keep in mind:
Definitely don't spam yourself — or do anything that could be considered spammy.
Vulfpeck famously told their fans to stream their silent album, Sleepify, non-stop while they slept while to help the band make money.  The genius ploy worked, but it basically slammed that door for good for similar funny business.  Try this stunt, either by corralling fans or doing it yourself, and you'll probably lose your plum position fast.
But even accidental spam can kill you: just recently, Smokey and the Mirror got banned by Spotify after a local bookstore put their album on non-stop repeat.  Others have similar war stories, including musician Ari Herstand.
So just be careful, and control what you can.
Share the playlist you're in on social media.
Sharing on social media is one of the key factors in making sure your track not only remains in the playlist longer, but also how it ranks within it.  So, sharing the news via social media, tagging the curator, and possibly even congratulating other artists on their placements will go a long way.
This news can also be shared via an email blast, Snapchat story, or Instagram story.
In addition, there're a few playlists that don't update nearly as often as others. For example, the New Music Friday playlist receives a total overhaul every Friday. If you receive more than one playlist add, spread the news at different times and through different platforms.
Direct your fans to stream the track within the playlist, not under your artist page.
According to AWAL's Nicki Shamel, "The more you get your fans to engage with your music on-platform, the greater chance of increased exposure you'll have."
Ensure that your fans are streaming your track via the playlist and not through your artist page. Additionally, encourage your fans to add it to their own collections and playlists. "If there is an add to a collection or save from that playlist, that's going to contribute to the performance of the track within the playlist," states Bonvalot.
Getting onto a huge playlist doesn't mean you have millions of fans.  Quite the opposite.
All it means is that Spotify has put you into a big playlist.  They're betting that millions of people will probably enjoy your music.  But those people may not care at all, much less remember your name.  It's sort of a test at first.
That's not intended to be depressing, but it's the reality of a streaming- and playlist-focused environment.  This is very different from getting downloads or CD sales, which is the ultimate sign of fandom.  "Consumer consumption no longer means fandom," Nick Bobetsky of Red Light Management recently explained.
"It's not hard to stream a song. And it's not hard for a lot of people to stream a song [from] a popular playlist.  That doesn't mean that you have millions of fans — it means you have millions of people who happen to hear your song. Who knows if they even dug it."
Make more 'successful' music.
Ask yourself: why was this song included on this huge playlist?  Or similarly, why are songs of this variety getting added, and not the other ones?
The answer is simple: Spotify's curators are including music that is testing well through data, or that they think will perform well within a playlist.  If it stays there, it's not by accident.  That's realtime market feedback, and an indicator of which creative direction to pursue.
Of course, other testing grounds also exist.  Comedians, for example, routinely test new material in front of smaller crowds to see what works.  They don't try experimental stuff out at Madison Square Garden.  Musicians do the same thing.
So consider a plum Spotify playlist as more than a happy accident.  In most cases, it's good, solid market research.  Use that data wisely.
Monitor other streaming platforms as well.
Of course, the streaming music world is a lot bigger than Spotify.  Just this week, Apple Music surpassed Spotify in terms of US-based subscribers.  But there are also millions of subscribers on other platforms, including Napster, Pandora, Tidal, Deezer, Sirius XM, and YouTube.
There are a few ways to monitor playlist adds, including chartmetric.io.  And monitoring can pay off, especially since it pays to promote an add right when it appears to ensure its longer-term success.
And one last tip on this: in terms of royalties, competing platforms oftentimes pay more, especially paid-only platforms.  YouTube is notorious for cut-rate royalties, but paid-only platforms are only dealing with higher-rent listeners, which means royalty rates aren't diluted.
That also goes for emerging paid platforms like Pandora Premium, and smaller paid-only platforms like Napster, which typically offer better payouts.  Here's a lot more detail on streaming platform payouts.
---