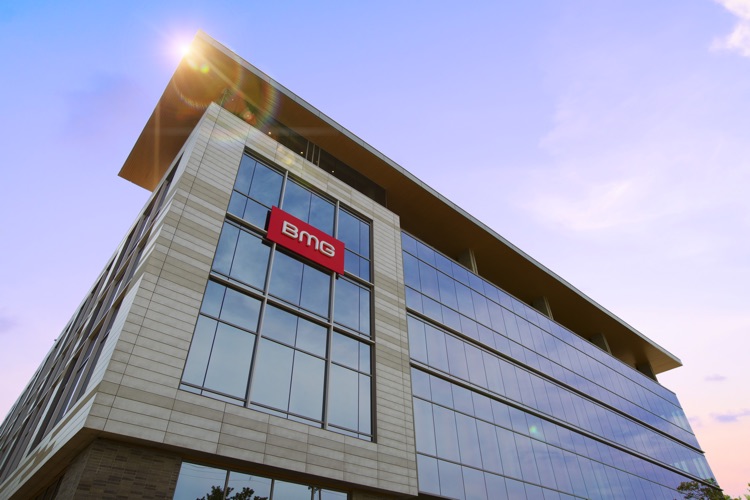 BMG just opened some flashy new digs in Nashville.
Over the years, we've profiled some high-priced office spaces from the likes of Pandora, SoundCloud, Warner Music Group, and — most opulently — Spotify.  Now, it looks like BMG is joining the Joneses, with a flashy, 36,000 sq. ft. space opening in the heart of Nashville.
The refreshed location is 1 Music Circle South, which combines two separate offices.  Previously BMG had been spread across the BBR Music Group at 65 Music Sq. W, and BMG's publishing division at 29 Music Sq. E.  Appropriately, both recordings and publishing are now under one roof.  BBR Music Group was acquired by BMG in 2017.
BMG told us that the new offices will house nearly 100 employees, spanning publishing, recordings, and operations.  Basically, every aspect of BMG's business will be represented here.
BMG's upgrade closely follows a similar move by Warner Music Group, which combined its west coast, LA-based offices into a retrofitted Downtown LA location.
That spelled the end of the famous 'Ski Lodge' in Burbank, which housed Warner Bros. Records for decades.
Incidentally, Nashville is now the third-largest office for BMG, behind Los Angeles and the U.K. That beats Germany, and perhaps more surprisingly, New York. Accordingly, it was time for some new digs in Tennessee.
Here's a description of the amenities 1 Music Circle, per an email from BMG.
"Key design components of the collective floor plan include seven fully equipped/top-of-the-line songwriter/recording rooms, multiple live performance areas, four state-of-the-art A/V meeting spaces and conference rooms, optimized individual listening rooms, as well as a large communal outside area and terrace to be utilized for live events."
All of that suggests a continued ascent for the Nashville office.  According to BMG, the Nashville space will now serve as the central hub for BMG's US copyright and royalties team.  Eric Scott, SVP, Rights Administration and Royalty Services, will lead that group, with oversight that also includes LA and New York.
The design was created by Trent Sullivan at architecture firm Lines, Inc.
Here's a look.