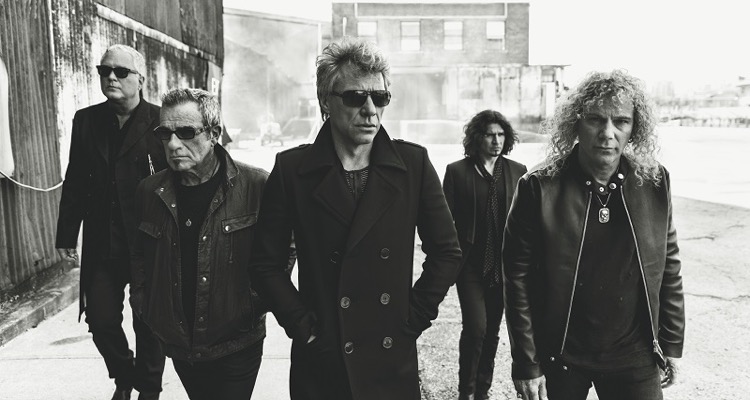 Bon Jovi has canceled each of its upcoming shows outright, as opposed to postponing them, so that fans can quickly and easily receive refunds.
The five-piece New Jersey band announced its decision in a social media post today. "This [the cancellation] will enable ticketholders to get refunds to help pay their bills or buy groceries," the statement reads. "You've always been there for us, and we'll always be there for you."
Bon Jovi previously expected to initiate its next tour — dubbed the 2020 Tour, in honor of the group's upcoming 15th studio album, Bon Jovi: 2020 — on June 10th, with a performance in Tacoma, Washington. The 20-show concert series would have kept the band busy until the end of July, when it was planning to wrap things up with a pair of gigs at Madison Square Garden. The album will still be released on May 15th.
Bon Jovi insisted on canceling — not rescheduling — its tour because of the recent controversy surrounding ticketing platforms' refund policies amid the COVID-19 pandemic.
Last week, Digital Music News first reported that Ticketmaster had quietly updated its refund fine print. The ticketing giant shifted to only offering cash-back options only for ticketholders whose events have been cancelled. Individuals whose shows have been postponed or delayed to a far-off date would not be eligible for refunds.
Fan (and politician) response to the perceived policy switch-up was predictably negative. AEG Presents preemptively addressed the widespread dissatisfaction by unveiling a 30-day-long refund window for ticketholders. Live Nation/Ticketmaster subsequently revealed a similar refund policy, wherein some ticketholders will be eligible to receive full refunds or vouchers for 150 percent of their passes' initial purchase value.
Notably, Ticketmaster customers must request said refunds by May 31st, and those who have tickets to shows slated for August 1st or later cannot yet get their money back. The ticketing platform intends to weigh and consider COVID-19 developments in the interim, before deciding whether to grant cash refunds for post-July events.
Australian dance group Rüfüs Du Sol, like Bon Jovi, has canceled its upcoming performances to assure that fans receive hassle-free refunds.