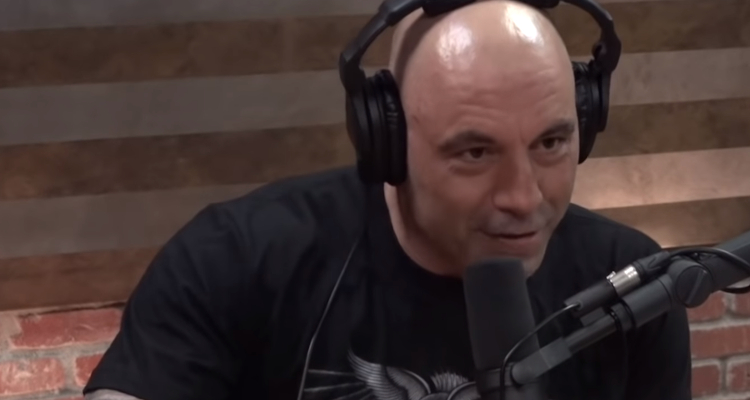 Joe Rogan is facing backlash and scrutiny following the circulation of footage showing him laughing at his friend and frequent Joe Rogan Experience (JRE) guest Joey "Coco" Diaz's description of trading stand-up comedy stage time for sexual favors from female comedians.
A Twitter user named "Tem" appears to have ignited the controversy by posting the clip – which was pulled directly from a 2011 Joe Rogan Experience episode – three days back, on Wednesday, June 17th. At the time of this writing, the video message had received more than 3.5 million plays, some 7,000 retweets, and nearly 12,000 likes (and quickly growing).
The 47-second-long clip opens with Diaz describing his exchanging sexual favors for comedy-club stage opportunities: "I had girls sucking my d—k and giving me coke from chewy [possibly a reference to oft-used slang describing a mixture of cocaine and marijuana] … That's the f—n gateway into coming to Hollywood, everybody knows that."
"How many girls did you have do that?" asks Rogan. "Oh, 20 of them," responds Diaz. Rogan then loudly laughs, and Diaz proceeds to describe one of the instances.
It bears mentioning that Diaz has been open about his previous abuse of cocaine and his legal difficulties; he served 16 months in prison before finding stand-up comedy, and he ceased using cocaine in 2007.
Though Rogan hasn't personally tweeted about the matter, he has retweeted Joey Diaz's response, and several other comedians have pushed back against the footage's context and underlying details.
Furthermore, the Twitter user who posted the video has actively targeted Rogan and other stand-up comedians in his latest messages, as part of what seems to be a carefully planned effort.
Specifically, the individual indicated that the new sexual misconduct allegations leveled against comedian Chris D'Elia prompted him to demonstrate that the "LA comedy scene is full of creeps."
Comedians Brad Williams, Doug Benson, Eddie Ifft, Brendan Schaub, Eddie Bravo, and Bryan Callen – the latter three are closely associated with Rogan – have also been named in the individual's recent string of messages.
In this clip, one of Rogan's best friends @madflavor admits to not letting female comedians stage time unless they gave him a blowjob. If you are one of the girls, please speak up, now's the time. 3/7 pic.twitter.com/oNsj2GBQGp

— tem (@ChemicalMishap) June 17, 2020
It's unclear at this time whether the clip will affect Rogan's $100 million deal with leading music streaming platform Spotify; company officials have yet to respond to the controversy.
The Stockholm-based brand is set to become the exclusive home of The Joe Rogan Experience later this year, and its stock value increased dramatically on the heels of the JRE contract's announcement.
On Friday, Spotify's stock, traded under the symbol SPOT, reached an all-time-high per-share price of $229.50.
The record-setting value arrived in the wake of two other high-profile podcast reveals: Kim Kardashian West will bring a criminal-justice program to the platform, and an array of scripted DC Comics podcasts will too debut on the service.
More as this develops.