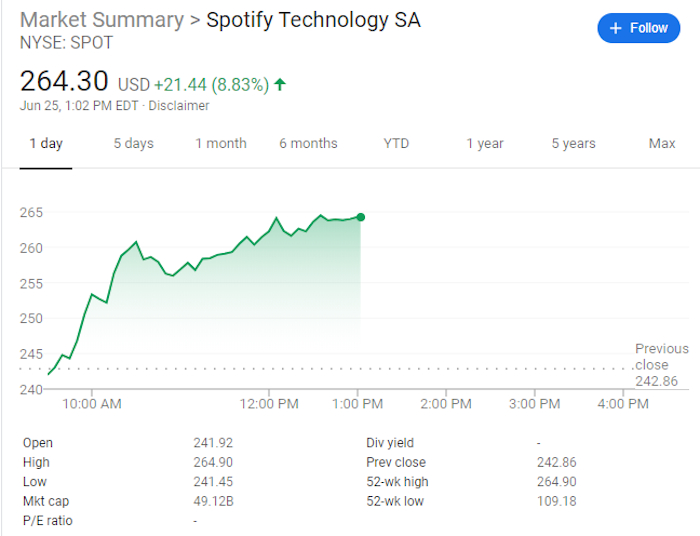 Leading music streaming service Spotify has touched a $50 billion market valuation after breaking yet another stock-price record.
At the time of this writing, Spotify shares, bought and sold under the symbol SPOT, were up nearly nine percent ($21.44 per share) on the day and were hovering around the $264 mark. By the closing bell, shares settled at $267.47, up more than 10% on the day.
Factoring for the Stockholm-based company's 189.95 million outstanding shares, today's gains ($21.44 per share, once again) represent approximately $4 billion in additional market value, as well as roughly $2.6 billion in additional public value. And that's accounting only for the 121.92 million SPOT shares available to public investors, excluding executives and firms.
Furthermore, at the aforementioned per-share price of roughly $264, Spotify's public shares are worth more than $32 billion in total – substantially higher than a little over a month ago, when it was announced that the Joe Rogan Experience would become a Spotify exclusive.
Outstanding shares, for their part, have just cracked the $50 billion mark – though the figure will likely fluctuate as the day proceeds.
In a broader sense, today's SPOT price is over $155 per share greater than it was during the domestic onset of the coronavirus crisis (when it touched $109.18 per share). Stated concisely, Spotify has experienced a market valuation hike in excess of 240 percent in just three or so months.
As we reported last week, some investors are confident that Spotify shares will soon be worth $275 apiece. Though recent trends appear to support the prediction, general market volatility, coupled with novel coronavirus fears and some controversy relating to the podcasts that have helped boost SPOT shares' value, may affect the stock's progress.
Nevertheless, at $275 per share, Spotify will have officially increased its market valuation by an unprecedented 250 percent since March. Additionally, the total worth of its shares (including those owned by the public and those owned by company execs) will exceed $52 billion.
More as this develops.