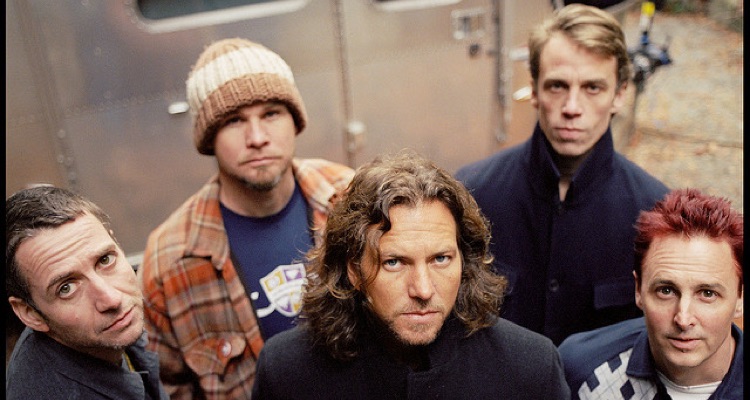 After receiving legal threats over its name, Pearl Jam tribute band 'Pearl Jamm Tribute' has officially been renamed 'Legal Jam' – though the switch may have brought about additional name-related legal threats from a company that operates well outside the music space.
In a Facebook post dated December 31st, 2020, the band formerly known as Pearl Jamm Tribute recapped its performance-related successes on the year, celebrated the release of Pearl Jam's Gigaton, and indicated that its members were "looking forward to playing some more tracks off the new album live soon." The three-paragraph-long message doesn't mention any sort of legal dispute with Pearl Jam proper and features hashtags including "#PearlJamTribute" and "#PearlJamm" at its close.
But roughly two weeks later, the London-based Pearl Jam tribute group posted video of a BBC News segment entitled "Pearl Jam Got Legal." In the brief clip, the tribute band's members said that they'd received a cease-and-desist letter — complete with calls to turn over domain names and destroy Pearl Jamm merchandise — from Pearl Jam's counsel.
Additionally, the five-year-old act emphasized that complying with the demands would exacerbate financial challenges brought on by the COVID-19 pandemic, besides noting that their comparatively small gigs (and comparatively modest merch line) hadn't before been confused with those of Pearl Jam itself. It's unclear what exactly prompted the legal crackdown, but it bears mentioning here that Pearl Jam is scheduled to kick off the European leg of its Gigaton tour, encompassing 15 stops, in mid-June.
Three days after posting the BBC News clip, with the legal pressure having evidently continued, the tribute band sent an open letter to Pearl Jam. "You have broken our hearts," the text begins.
"You have known of our tribute band for years yet have waited until a global pandemic to have threatening legal letters sent," the document continues. "This isn't the Pearl Jam we know and love, the Pearl Jam that stands up for social issues and against corporate giants. Yet your lawyers tell us it is indeed you, the band, that are behind this."
Plus, the musicians said in the message that the situation could have been avoided if Pearl Jam had "personally" reached out, aside from calling on the Rock and Roll Hall of Fame band's members "to respond either publicly or privately and rescind the legal threats."
Finally, the five-piece tribute act specified in a follow-up post that it would "yield" to Pearl Jam's demands by becoming "Legal Jam," including adopting a new web address. "Our disappointment," wrote Legal Jam, "was only ever of the timing and manner in which those demands were made. … We will continue to perform the music of Pearl Jam in the most heartfelt and authentic way."
Unfortunately for Legal Jam – the band, that is – the name change has only spurred further threats of litigation.
Yesterday morning, an individual who's purportedly associated with an India-based provider of "customized judicial services courses," Legal Jam, called on the Pearl Jam tribute group to "cease and desist" using the shared name.
"Please can you cease and desist from using our brand name. Our lawyers will be in touch. We feel that people may attend your gigs thinking it was one of our seminars," this person penned, also linking to the older Legal Jam's Facebook page, which has over 5,000 likes and features content that was published several years ago. Significantly, Legal Jam hadn't personally posted about the tribute band – on its own profile or as a visitor – at the time of this piece's writing.
Elsewhere, a far more contentious name dispute is grinding through the courts. The band formerly known as Lady Antebellum made headlines last year after changing its name to Lady A – only to find that the title had long been in use by Seattle-based blues singer Anita White. The parties remain embroiled in a high-profile lawsuit over the moniker, and the courtroom confrontation appears unlikely to conclude anytime soon.
Just recently, Lady Antebellum — aka Lady A — was inducted into the Grand Ole Opry.