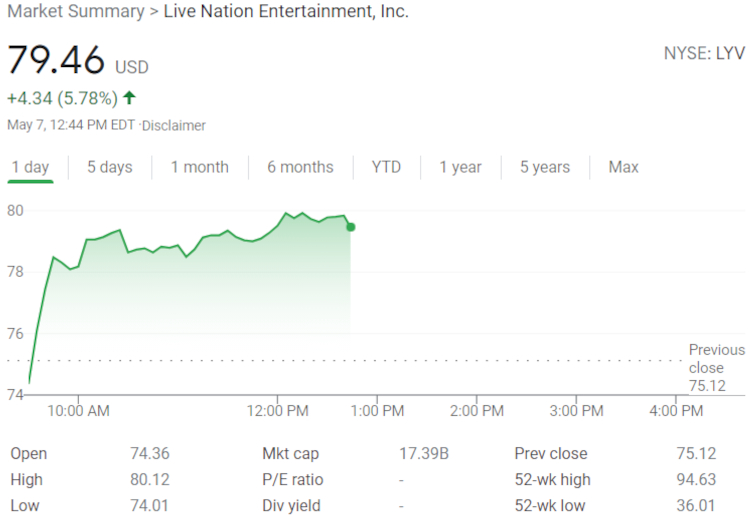 Ahead of crowd-based entertainment's full-scale return, Live Nation stock (LYV on the NYSE) is surging.
At the time of this piece's publishing, Live Nation stock (LYV) was up 5.78 percent from yesterday's close, for a per-share price of $79.46. And while this figure is about $15 less than the Beverly Hills-based company's 52-week high stock price of $94.63 per share, it's nearly double LYV's value in early May of 2020, when shares were trading for just under $40 apiece.
That Live Nation CEO Michael Rapino struck an optimistic tone about the timetable associated with live music's comeback may have likewise contributed to LYV's gains. The Ontario native – who has long maintained that concerts would resume at scale in the summer of 2021 – stated in his company's earnings report yesterday that "fans are buying tickets and events are selling out faster than ever before."
Additionally, the A Star is Born executive producer relayed that "our confidence [in the prospect of traditional concerts' return] has increased for our key markets," due in large part to the continued rollout of vaccines. Rapino also noted the quick sellouts (at full capacity) of Reading and Leeds, Parklife, Bonnaroo, Rolling Loud, and EDC Las Vegas, as well as the many world tours that are in the works for late 2021 and early 2022.
And in terms of the Ticketmaster parent company's earnings specifics through 2021's opening three months, concert revenue came in at $239.4 million (against $993.4 million in Q1 2020), while ticketing income totaled $28.3 million, against $284.3 million across the same stretch in 2020.
Predictably, Live Nation's total revenue was down substantially year over year, at $290.6 million in Q1 2021 versus $1.37 billion in Q1 2020. Nevertheless, the former number represents a more than $50 million boost from Q4 2020's earnings.
On the capital front, Live Nation possessed $1.1 billion in free cash and nearly $1 billion in debt capacity as of March 31st, for a total of over $2 billion in liquidity. Plus, the "global refund rate for the company's concerts that are rescheduled and are in or have gone through a refund window" was 17 percent at Q1 2021's conclusion. About 65 percent of fans have opted to keep their passes for festivals' rescheduled dates.
It bears mentioning that Rapino and Live Nation president Joe Berchtold elaborated upon several interesting points (which may have fueled the Live Nation stock gain) in the approximately 45-minute-long earnings call that accompanied the Q1 2021 performance breakdown's release.
To be sure, Berchtold reiterated that "we still plan on reducing costs this year by $750 million and reducing cash spend by $1.5 billion relative to pre-pandemic plans," in addition to specifying that "the demand is going to be there [in the long term] when you've got these great artists out on the road."
And when asked about the possibility of an overcrowded concert and festival schedule (as well as the corresponding effect on fans' wallets and willingness to attend multiple gigs), Rapino emphasized: "We don't have any issues in terms of availability, but we're also not looking to cram everything in three years into one year. We're looking to stage a good '22 into '23 year. So when you spread it over those two years, you find enough Fridays and enough weekends and enough rooting challenges come to be solved that way."
Furthermore, Rapino acknowledged the potential impact of blockchain technology and NFTs on operations – "I think you'll see us come out with an interesting Live Nation concert NFT angle" – and, amid lawmakers' renewed calls for an investigation into ticketing-resale platforms, offered to sit down with Representative Bill Pascrell Jr. "and educate him on the business so we can get all of the idiosyncrasies nailed because it's never as simple as it seems."
Lastly, company execs are continuing to cash in on their Live Nation stock – including Berchtold's selling 79,725 shares at $91.77 apiece (for a $7.32 million windfall) in a single transaction and director and chairman of the audit committee Jeff Hinson's selling 10,000 shares at $90.53 each, according to Securities and Exchange Commission (SEC) filings.
However, higher-ups including Rapino also forfeited thousands of performance-based restricted shares (47,778 for the Live Nation head, who still owns some 2.6 million LYV shares) on March 31st "due to the relevant performance target not being achieved for 2020 due to the COVID-19 pandemic."