Rolling Loud California 2021 set times are here. Twitch is the exclusive live stream partner for the festival.
Rolling Loud has revealed the set times and live stream details for the festival. The festival kicks off on December 10 – 12 at NOS Event Center in San Bernadino. The live stream will be hosted by Hakeem Rowe, Tallie Spencer, and Jacques Morel – airing exclusively on Twitch. It's designed to give an at-home experience for hip-hop fans who couldn't attend.
The broadcast will feature the high production value of Rolling Loud's previous 'Loud Stream' virtual festivals. That includes a curated stream of live artist performances, exclusive interviews, and behind-the-scenes content for fans to enjoy. Twitch chat will be available for the entirety of the stream, allowing viewers to vote on the performances they want to see in real-time.
Rolling Loud California Livestream Times
Friday, December 10 | 3 pm to 11 pm PT
Saturday, December 11 | 1 pm to 12 am PT
Sunday, December 12 | 1 pm to 11 pm PT
You can view all three days of the Rolling Loud California live stream at Twitch.tv/RollingLoud.
Rolling Loud has partnered with Twitch before with its 'Loud Stream' festivals on Twitch.
Headliners like Trippe Redd, Swae Lee, Ski Mask The Slump God, Fetty Wap, and Lil Skies drew millions of unique viewers. Since the return of live music with the success of Rolling Loud Miami – Rolling Loud is adapting what they've learned to keep the show going for those at home.
Rolling Loud California 2021 will be headlined by Kid Cudi – his first Rolling Loud Performance. J. Cole and Future are also on board as headliners. Beyond the headliners includes a huge roster of some of the biggest names in hip-hop, including: Wiz Khalifa, Playboi Carti, Moneybagg Yo and Lil Durk, Ty Dolla $ign, Drakeo The Ruler, Bino Rideaux, and more.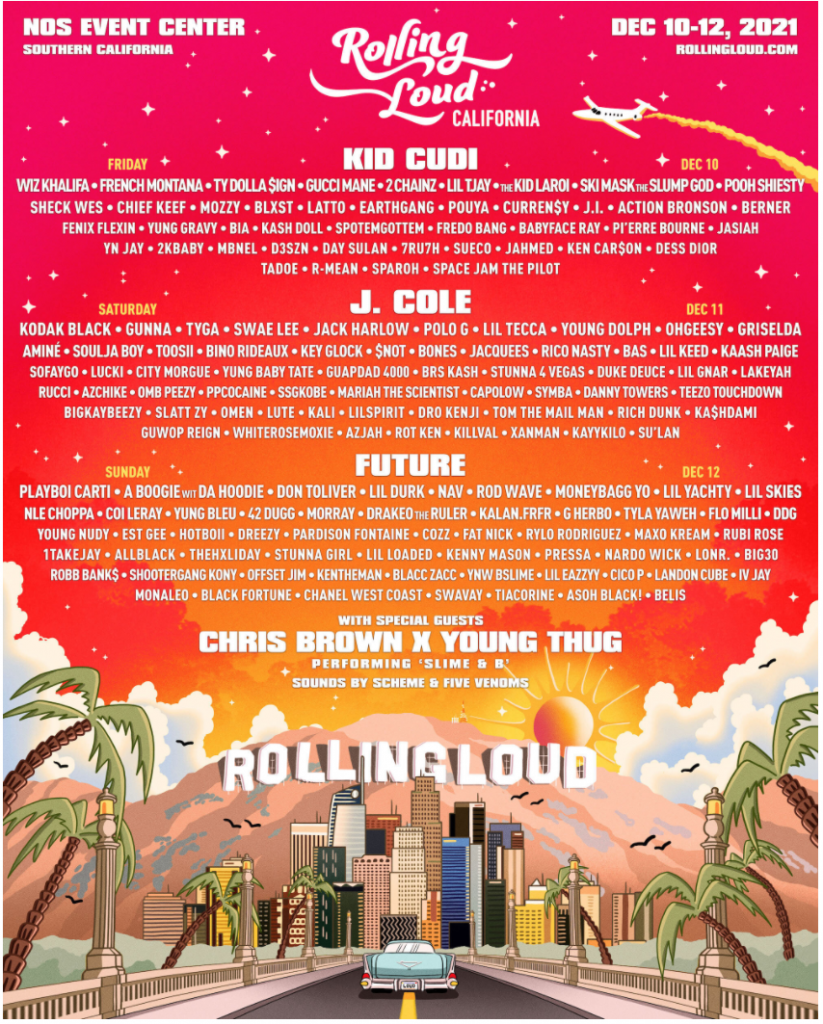 Rolling Loud California is the third Rolling Loud festival of the year. Miami kicked off the return of live music for the hip-hop festival, and Rolling Loud New York went off without a hitch at Citi Field, featuring 50 Cent and J. Cole. Those attending RLC will be required to provide proof of COVID vaccination or a negative COVID test before entering the festival grounds.