Grand opening, grand closing.  Looks like Kmart's relationship with Nicki Minaj is abruptly ending.  The struggling retailer just announced that it is canceling the rapper's clothing line.
It was an ill-fitting relationship.  And just this weekend, Kmart announced the end of its relationship with Nicki Minaj.   In fact, Kmart is not only ending it, they're getting rid of the inventory as fast as humanly possible.
"Due to a dramatic decrease in sales, Nicki Minaj's clothing line will soon be discontinued," the retailer tweeted.  "Items are now 50% off."
A short-lived deal.
The relationship itself barely lasted three years, with Nicki Minaj items rolling heavy in 2014.  And Kmart went all in with workout gear, tops, and booty-plus apparel.  This stuff was pretty stylish, and aimed at younger, fashion-driven buyers.
+ The Highest Paid Women In Music: Adele, Taylor Swift, Rihanna, More…
But maybe the heartland is still a little behind.  On the retailer's website this morning, more than two-dozen Minaj-themed tops and bottoms are slashed.
'Dramatic Sales Drop'?
Strangely, the announcement came from a Twitter account called @KmartFashions, which Kmart says is unaffiliated with the retailer.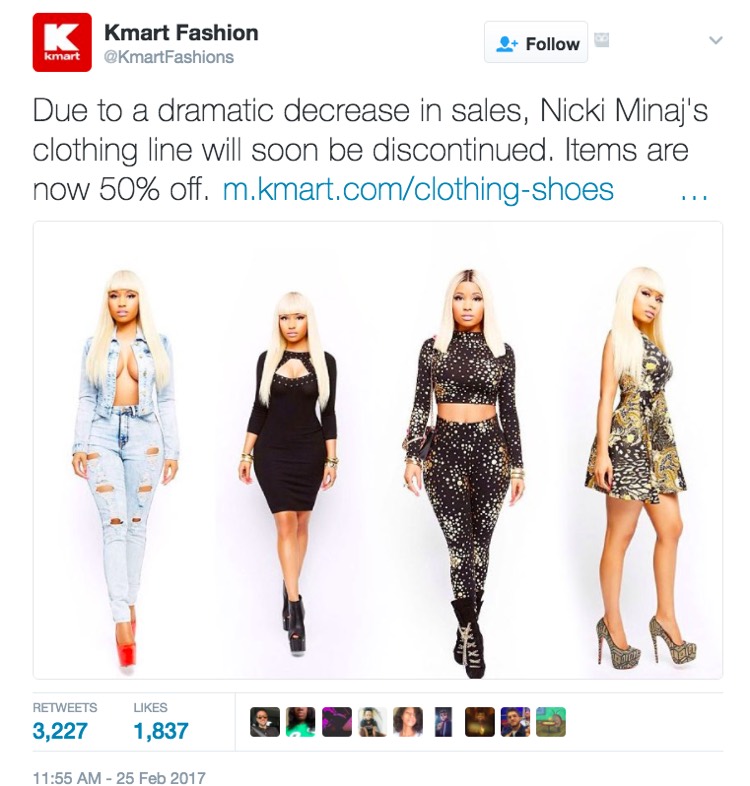 But trolling or otherwise, the information is correct.  In a formal statement, the discount retailer said its relationship is ending, and Nicki Minaj items on the site are being slashed by roughly 40%.
The 'Ivanka' problem.
All of which brings us to a big problem with celebrity lines.  Starting a celebrity relationship is easy, but ending one can be really, really complicated.  Just ask Nordstrom, which dropped its Ivanka Trump line after a nosedive is sales.  Other retailers also scurried from the brand, while President Trump blasted Nordstrom on Twitter.
+ "When Kim Kardashian Poses Nude, It's Classy. When Nicki Minaj Poses Nude, It's Trashy."
For Kmart, the fallout has been far less serious.  But a pre-emptive note about sales dips helps to minimize accusations of racism or bad blood.  Indeed, Kmart is in the middle of a major downsizing, and anyone with soft sales is being shown the door.