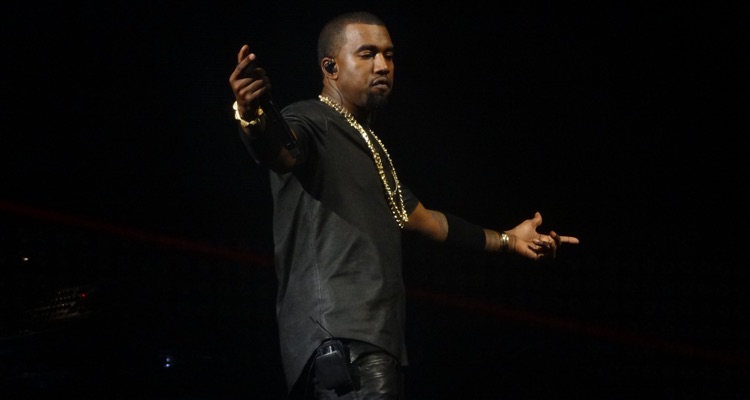 Joe Rogan lavished Kanye West with praise during a recent podcast interview. But was it just an act?
A YouTube video uploaded last week raised that question after dredging up a string of attacks against the rapper.  The insults came just a few years ago, following the rapper's visit with Donald Trump at the White House.
The four-minute-long clip is largely a compilation of older footage from The Joe Rogan Experience, juxtaposed against some complimentary words that the longtime UFC commentator offered West during their recent discussion on JRE Episode No. 1,554.
The clip, entitled "Joe Rogan Being Fake to Kanye West After Trashing Him for Years," features a number of interview segments in which Rogan is flat-out trashing Kanye — then lavishly praising him in the more recent interview.  The side-by-side comparisons feature some serious put-downs.
"Listen, you dumb motherf—ker," the New Jersey-born comedian says at one point, "Ford makes dope cars." Rogan offered the words specifically in response to statements (concerning Ford automobiles) that Kanye made during his White House visit. "What are you gonna teach the people at Ford how to design cars? Shut the f—k up and make your shi—y slides," continued the Brazilian Jiu-Jitsu black belt Rogan, referring to a slapped-together presentation created by Kanye.
In the more recent interview, however, Rogan is shown praising Kanye's misunderstood genius, while taking his presidential campaign very seriously.
"You have the courage to have all of these bold ideas, and to implement them," Rogan effused. "I look at you and I say, 'that guy can do f—king anything'."
In the older clip, Rogan also suggested that Kanye be forced to pass a 'spelling bee' before running for president. In the recent podcast, however, Rogan compliments the rapper after he expresses frustration between the spellings of 'two, to, and too'.
Other components of the video appear to be years old, judging by their quality, and chiefly center on Rogan's off-the-cuff observations about West's mental health. At the time of publishing, neither Joe Rogan nor Kanye West had commented publicly on the YouTube video. Moreover, it's unclear what exactly prompted its creator – one "Crying Shark," whose name is watermarked – to craft the time-consuming work.
Evidently, however, the content is a byproduct of the comprehensive scrutiny and media spotlight that Rogan's attracted following his reported $100 million deal with Spotify. To be sure, the 11-year-old Joe Rogan Experience seems to have generated a larger number of headlines since debuting on Spotify (back in September) than during any other quarter-year-long stretch to date.
Activist Spotify employees have taken aim at the guests and conversations on JRE, going as far as threatening a walkout or full-blown strike if they didn't receive direct editorial oversight. Thus far, however, higher-ups have kept the demands at bay – including during a high-stakes recent episode, when Rogan welcomed back Alex Jones (who Spotify banned in 2018).
The motivation behind Spotify's $100 million "balancing act," attempting to quell team members' dissatisfaction without compromising the unfiltered nature of JRE, appears relatively straightforward. A ratings powerhouse, The Joe Rogan Experience could attract a substantial number of subscribers to Spotify, and many investors believe that podcasts will generate considerable revenues in the long term.
Moreover, SPOT has set several all-time-high records this year and currently boasts a per-share worth that's over $82 higher than it was during the same time in 2019.