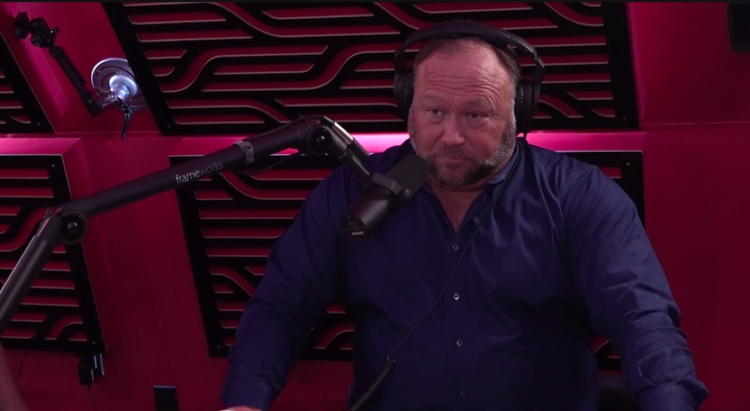 Spotify employees are pushing for the removal of Joe Rogan's latest Alex Jones interview over the radio host's anti-mask statements and vaccine criticism.
The Wall Street Journal recently reported on the behind-the-scenes pushback, which is the newest twist in a long-running series of internal disputes centering on The Joe Rogan Experience. In late September, just weeks after the comedian and UFC commentator's ultra-popular podcast arrived on Spotify, Digital Music News was first to report that Spotify employees were calling for direct editorial oversight on JRE episodes – and considering a walkout or full-blown strike if higher-ups didn't meet their demands.
Now, more than one month later, the in-house controversy has hardly abated. Multiple team members took issue with and flagged the JRE episode featuring Alex Jones – whose own podcast was banned from Spotify in 2018, and whose previous JRE discussions have yet to arrive on the platform. The employee activists didn't like 46-year-old's anti-mask sentiments and claims that the polio vaccine made some individuals ill.
Alex Jones's comments about masks arrived at about the 1:56:30 mark of his (and standup comedian Tim Dillon's) over three-hour-long sit down with Rogan.
"Don't you think it's a good idea to encourage people to wear masks if they're going into large gatherings?" Rogan asked Jones, just a moment after emphasizing that he'd continue to challenge his (Jones') opinions because he expected internet followers to do so.
"A lot of studies show that doesn't even protect you," replied Jones, before elaborating upon his position.
The remarks about the polio vaccine began (as a broader conversation about vaccines) during the final moments of JRE episode #1,555, at roughly 2:53:30. Jones described the body's response to mRNA vaccines and stated that all the individuals who take them become sick, with one-fifth of the persons requiring hospitalization. From there, the Dallas native prompted Rogan's team to search the web for an article on a vaccine-caused polio outbreak in Africa.
It doesn't appear that Spotify higher-ups intend to censor or remove the discussion, in spite of employees' qualms. Last week, CEO Daniel Ek insisted that Rogan isn't receiving special treatment (content- and guest-wise) on his podcast, and that review guidelines apply to each of the platform's creators. Separately, Spotify management flatly denied removal requests from team members.
As more podcasts make their way onto Spotify – the Stockholm-based company added a whopping 400,000 programs to its ranks in the third quarter alone, for 1.9 million total shows – instances of internal disagreements could well become increasingly prevalent.