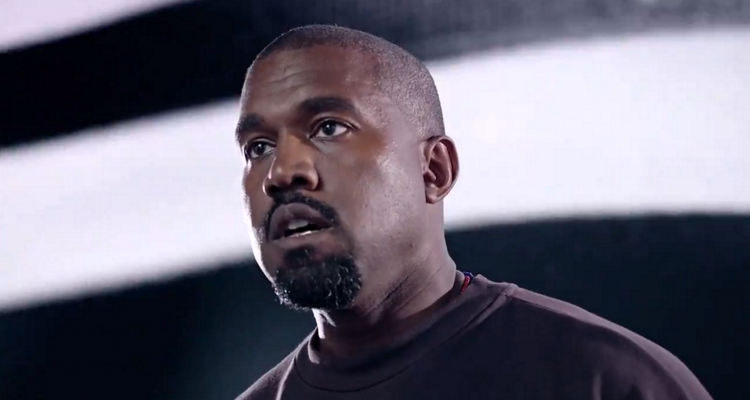 Last week, Kanye West expressed interest in appearing on The Joe Rogan Experience (JRE). Now, the world's richest musician has confirmed that he'll record the Spotify exclusive podcast on Friday, October 23rd — while insisting on a 'live' uncensored interview.
"Joe Rogan said it's cool for me to design the set for our podcast this Friday," Kanye West recently penned, concluding the message with a skiing emoji. The concise tweet also includes screenshots of Rogan and West communicating via video chat.
At the time of this writing, Rogan hadn't publicly addressed the possibility of welcoming Kanye West onto the program. Similarly, it's unclear whether the prospective sitdown will take place in person or remotely; the longtime UFC commentator Rogan has relocated to Austin, Texas, though West emphasized that he's in Calabasas, California presently. (Multiple Joe Rogan Experience guests have tuned in from home amid the COVID-19 pandemic.)
Building upon the point, Kanye West requested in his original tweet pertaining to JRE that he and Rogan conduct their conversation "LIVE."
The Chicagoan hasn't elaborated upon his intention, but the request is likely attributable to censorship concerns. Multiple Spotify employees have demanded direct editorial oversight of Joe Rogan Experience editions, and West is continuing to promote his 2020 presidential campaign (largely as a write-in candidate).
And in spite of this ongoing third-party push, West hasn't let up on other fronts. To be sure, the 43-year-old has continued his (decidedly public) quest for master ownership and kept fans apprised of his non-music endeavors. Included among the latter are a brief account of a two-hour-long conversation with comedian Dave Chappelle, a rendered design (fans are continuing to guess what exactly the image shows), and an update on the menu at the Yeezy Christian Academy (YCA).
Additionally, the Georgia native posted a 16-second-long "snippet" of an upcoming collaboration with DaBaby, who "turned this verse around so quick it's inspirational," per the ultra-active West. The two haven't yet provided a release date for the track itself, but Kanye initially hinted at the joint effort yesterday afternoon.
Needless to say, a JRE episode featuring Kanye West would prove an unqualified ratings success for Spotify, which saw its shares cross $266.50 apiece this morning – higher than the per-share price throughout the vast majority of September and October's opening two weeks.
In a broader sense, the pressure is on for the Stockholm-based company, which has experienced tremendous stock-market gains since unveiling the Joe Rogan Experience (JRE) deal back in May. However, just over one-fifth of the service's almost 300 million monthly active users (MAUs) listen to podcasts, according to the Q2 earnings report. One would assume that investors will be on the lookout for a major podcast-listenership uptick in Spotify's Q3 performance analysis, which is set to release on Thursday, October 29th.