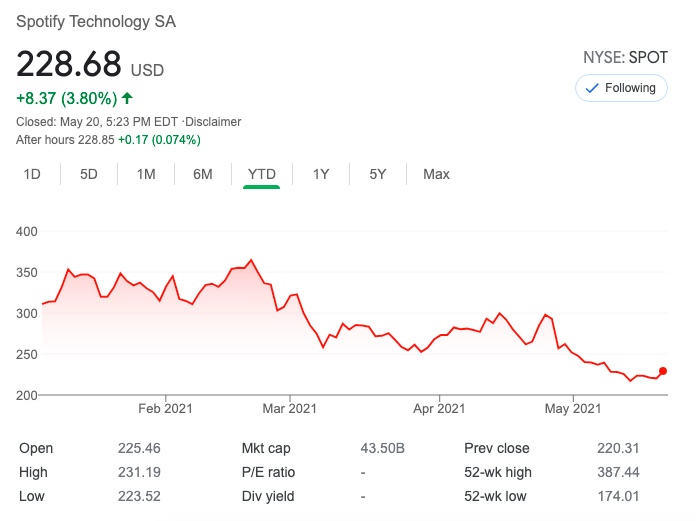 Despite adding almost four percent to its value during today's trading hours, Spotify stock (SPOT) has now dipped in price by about 26.5 percent since the beginning of 2021.
Spotify stock (SPOT) was worth $228.68 per share when the market closed today – an increase of 3.79 percent ($8.35) on the day. However, the Stockholm-based audio-entertainment platform, which looks to be prepping the rollout of a hi-fi tier, boasted a per-share stock price of about $311 at January's start.
This considerable valuation was more than double the price point of Spotify stock in January of 2020 (when shares were about $150 apiece) and, just as notably, paled in comparison to the nearly $400-per-share worth that the company touched in February of 2021.
Nevertheless, the entity's per-share stock value declined to the low-$300s by February's end, before largely holding steady in the $250 to $300 range across March and April and falling during May's first three weeks.
Predictably, multiple financial professionals and investors are speculating as to the precise source of the Spotify stock downturn, which has caused shares to dip to a level not seen since June of 2020.
On this front, it bears reiterating once again that Spotify shares were trading for roughly $150 apiece at the beginning of 2020 – a substantial improvement from October of 2019, when SPOT fell to around $115. Furthermore, the upward ascent that brought with it several record Spotify stock prices appeared to initiate in earnest one year ago, when the business announced that it would become the exclusive home of The Joe Rogan Experience.
Some analysts then set bullish SPOT target prices, touting the perceived earning potential associated not only with JRE, but podcasting in general – and expressing the hope that non-music audio entertainment would enable Spotify to move past its razor-thin music margins and tap into a new revenue source.
As an aside, Spotify reportedly paid $100 million for the rights to JRE and also hosts (undoubtedly expensive) podcasts from Michelle Obama as well as Barack Obama and Bruce Springsteen, to name some. Additionally, the entity paid $235 million for Megaphone last November, a reported $250 million for The Ringer in February of 2020, and a reported $230 million for Gimlet Media in 2019.
Keeping these points in mind, the Spotify stock-price hike initiated long before JRE even arrived on the service – and, in turn, far before the income and listenership specifics of podcasting became clear.
But in one possible explanation of the SPOT falloff, Spotify revealed in its Q1 2021 earnings report that just a quarter of MAUs had engaged with – not necessarily listened to from start to finish – podcasts throughout this year's opening three months. Plus, the figure remained flat from Q4 2020.
Expanding upon the idea, SPOT, in spite of turning in noteworthy losses thus far in 2021, is still worth a full $36 or so more than it was on May 21st, 2020.
Lastly, Spotify, after achieving material subscriber growth during 2020, noted in its Q1 2021 performance analysis that it had added just three million paid users – even after debuting in South Korea (population 52 million) without a free tier and expanding into a multitude of other nations yet.
The subscribership plateau (as well as the potential implications on operations moving forward) may be contributing to SPOT's difficulties. In this regard, it'll be particularly interesting to see how many MAUs and subscribers the platform manages to attract during Q2 2021 – and the percentage of MAUs who engage with podcasts.