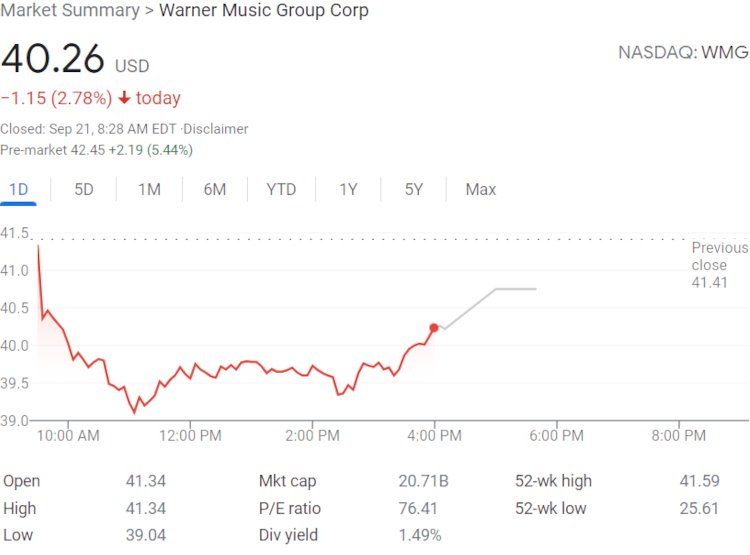 Warner Music Group stock (NASDAQ: WMG) parted with almost three percent of its value yesterday – for a per-share price of $40.26 when the market closed – but jumped to an all-time-high price during pre-market trading today, as Universal Music Group shares made their way onto the Euronext Amsterdam.
Update (9/21): Warner Music Group stock built upon its early-morning valuation hike during normal trading hours, turning in an 11.77 percent ($4.74) gain from Monday's closing price and finishing the day at an even $45 per share.
Universal Music Group stock, on the other hand, posted a material boost from its reference price (shares dipped just beneath their opening value before trading ended, however) after debuting on the Euronext Amsterdam today.  
Below is our original coverage of Warner Music stock's pre-market gains on Tuesday, September 21st.
The price of Warner Music Group stock fell by 2.78 percent on Monday, having finished at $41.41 per share on Friday – just 18 cents beneath the record high of $41.59 apiece that shares cracked early last week. Notwithstanding yesterday's dip, however, WMG – which returned to the stock market last summer, after nearly a decade of entirely private ownership – has seen its value hike by 11.15 percent during the last month, almost 24 percent during the last six months, and roughly 35 percent since June of 2020.
As mentioned, Universal Music Group's long-awaited IPO has arrived, with shares surging in early trading and elevating the Big Three record label's valuation past a staggering $50 billion. But investors are also flocking to Warner Music stock, data suggests, for WMG at the time of this piece's writing boasted its largest value to date.
Specifically, pre-market trading had delivered a 5.44 percent ($2.19) boost for Warner Music Group stock, elevating shares to $42.45 each. The figure marks a $5.58-per-share improvement since 2021's beginning as well as a noteworthy $14.62-per-share gain since late September of 2020.
During today's regular trading hours, it'll be worth watching to see whether Warner Music Group stock continues to ascend – especially because the move appears driven by UMG's IPO, as mentioned.
It also bears highlighting that Chinese conglomerate Tencent – despite encountering regulatory hurdles and stock-price struggles via its Tencent Music subsidiary – stands to benefit from the trends, as it owns 20 percent of Universal Music Group and north of 77 million shares in Warner Music, or roughly 1.6 percent of the company.
Warner Music Group in its Q3 FY 2021 earnings report – covering the three months ending on June 30th – reported a 33 percent year-over-year revenue boost, with $1.34 billion generated during the quarter. Continued streaming growth contributed heavily to the double-digit hike – as was also the case for Universal Music Group during the first half of 2021, which brought 38 percent more revenue than the corresponding stretch in 2020.
Moreover, both totals outpaced the 27 percent YoY growth enjoyed by the broader U.S. recorded music industry during H1 2021, according to the RIAA.