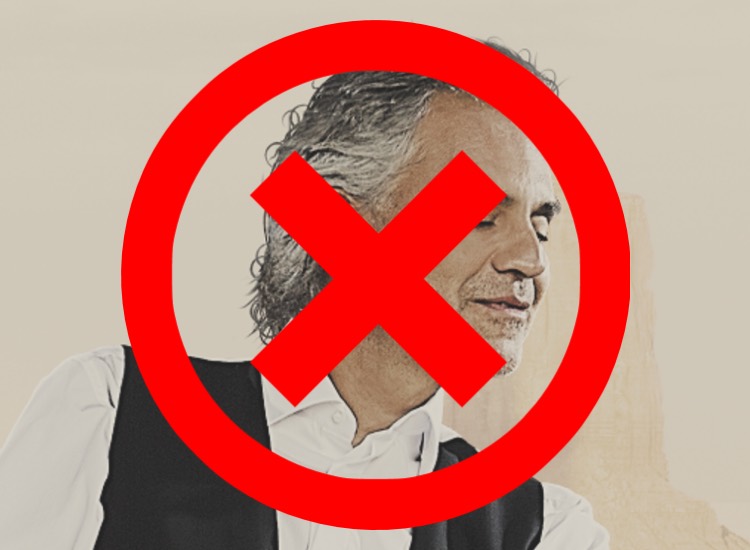 Was this a smart move for Andrea Bocelli?  Less than 24 hours after agreeing to play Trump's Inauguration, the tenor is facing 'Boycott Bocelli' backlash.
We'll ask the question again: should musicians get involved in politics?  Or, is that a sure-fire recipe to cutting a career short and alienating fans?
+ Why Music and Politics Don't Mix Anymore
Enter Andrea Bocelli, who could be testing the resilience of his career by agreeing to play Donald Trump's upcoming Inauguration (see our breaking story here).  As first tipped yesterday, the tenor will perform alongside B-lister Jackie Evancho, with a duet in the offing.
+ Elton John Says 'No F–king Way' to Donald Trump Inauguration
Hours after the announcement leaked, fans are starting a 'Boycott Bocelli' movement to protest the move.  Actually, that's #boycottbocelli for those following along on Twitter…

Regardless of Bocelli's personal politics, an Inaugural appearance may represent the equivalent of stepping in a giant pile of s–t.  Part of the problem is that fans who had never considered Bocelli's politics previously may forever hate the artist.  And for reasons that have nothing to do with Bocelli's music.
Swing over to 'Red State artists' like Kid Rock, and a Trump alliance represents a major asset.  Just recently, Kid Rock teamed up with Warner Bros. Records to release an unabashedly pro-Trump line of merchandise.  That featured an in-your-face, 'go f–k yourself' style of messaging, an approach strategically designed by Warner Bros. Records to create an 'us vs. them' fan connection.
+ Warner Bros Records Calls Pro-Hillary States 'Dumbfuckistan'
But wait: where's Kid Rock's Inauguration invitation?  WTF?
Separately, country legend Garth Brooks has been rumored as a top Trump pick for the bash.  Brooks indicated interest in 'serving his country,' but said he hadn't received an invitation.
Others have flatly refused to perform, including Elton John.  The British singer was initially mentioned as a confirmed performer by a Trump staffer, though Elton John quickly crushed that possibility.
More as this develops…