Now, you can view key metrics on just about any Pandora artist on Next Big Sound.
Before, only artists, managers, and record labels could measure the success of a musician on Pandora through key metrics.
Not anymore.
Pandora's Next Big Sound Project has made artist data open to everyone – at least those on Next Big Sound.  Pandora acquired the data and analytics company in 2015.
Speaking on the announcement, Dan Wissinger, Senior Product Manager at Next Big Sound, confirmed users can now see Pandora metrics on artists.  He explained,
"In an industry where stream counts are an important measure of an artist's success, the inaccessibility of this data publicly has meant that Pandora's important role in many artists' career trajectories has gone unnoticed."
So, how does it work?
As stated earlier, Next Big Sound has previously allowed musicians, their managers, and record labels to view how successful they were on the digital radio service.  This allowed them to measure their success in the key North American market.
Explaining the feature, Wissinger uses Lil Donald, an Atlanta rapper, as a prime example.
On Spotify, the rapper has 250,000 monthly listeners.  His latest single, 'Suicide,' has over 100,000 plays on the Swedish streaming music service.  On YouTube, the single has over a million views and 80,000 streams on SoundCloud.
So, how about Pandora?
In the past 28 days, he's had 2 million unique listeners enjoying his work on Pandora.  He also has over 4.5 million streams, up 48.52% over the previous month.
Lil Donald also outperformed his expected number of Thumbs Ups, revealing he had higher-than-expected audience engagement.  Yet, he's also lost a large number of Thumbs Ups.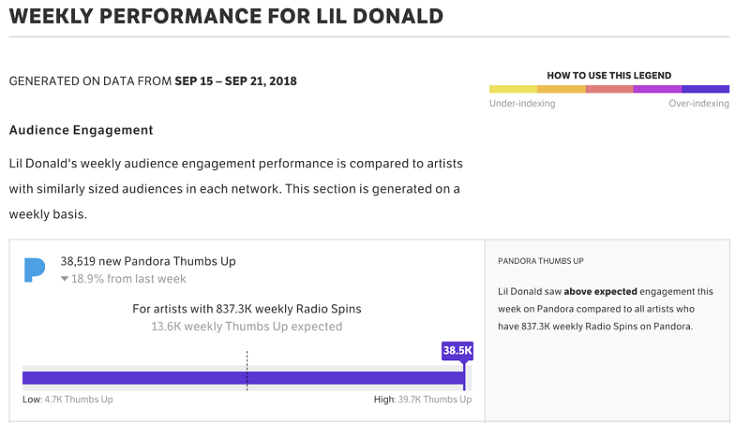 Pandora will also reveal how his releases have performed.
Breaking down streams in the second week of September, his tracks performed significantly worse than the previous week.  Only one song – 'Back & Forth' – saw a minor jump.
Pandora can also reveal whether listeners have merely listened passively or actively searched for his tracks.
Looking at the Reach Metrics for Lil Donald, you can see people have started shifting away from the artist.  He had significantly fewer track station adds, artist station adds, and fewer social media interactions.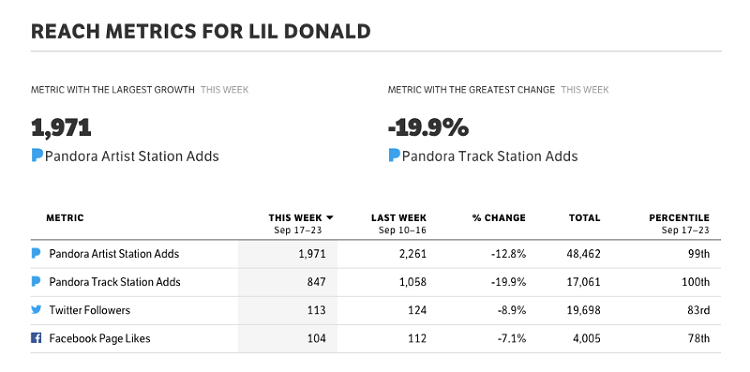 Not exactly the kind of metrics you'd like Pandora to reveal to the public.
The company will also reveal the stage of the artist and whether the selected artists have strong audience engagement.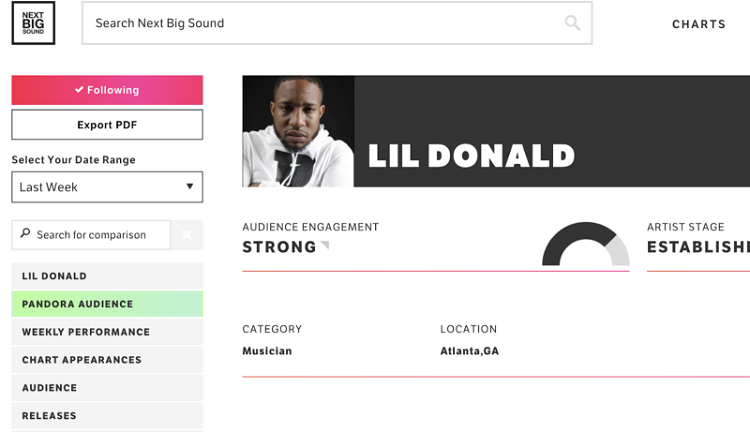 Looking at the big picture – What does Pandora really want?
Clearly, the service wants to remain relevant in the music industry.
Pandora still has a sizable lead over streaming music rivals in the US – at least in terms of overall users.  In 2017, the digital radio service had 76.3 million users, while Spotify had 46.3 million.
Yet, the service has taken a beating when it comes to key listener metrics, something executives have yet to admit.
Spotify, for example, now has a 21% install penetration rate on Android devices in the US, up 6% over last year.  While Pandora maintains the lead at 28%, this number has dropped in the past year.
Spotify's usage penetration – the daily active user (DAU) rate – has also grown to 3.9%, nearly tying with Pandora.  People also spend more time on Spotify over Pandora each day – 28 minutes a day compared to Pandora's 17.
According to SimilarWeb, Spotify has managed to grown thanks to a strong brand name.  Conversely, Pandora has fallen because it hasn't found the way to engage with users.
So, how does Pandora plan to fight back and gain precious relevance in the music industry?  Simple.  Copying what its competitors have done and hope it works.
Two weeks ago, for example, Pandora launched its own 'Release Radar.'  Dubbing it 'The Drop,' the digital radio service now offers custom playlists designed for premium on-demand subscribers.  Just like Spotify.
This comes almost a year after Pandora revealed its own 'Freemium' clone.  Copying its rival, the digital radio service now lets ad-supported users select and listen to the songs of their choice.  Only after watching a video ad.  Just like Spotify.
Whether it wants to admit it or not, Pandora is now losing relevance in the music industry.
With a significantly large global audience, Spotify for Artists already offers musicians and labels the engagement metrics they need.  Apple Music's global audience continues to grow – so does its recently-launched artist metrics platform.  Even YouTube now has charts in 44 countries to measure an artist's success.
So, why would anyone choose to measure an artist's success from a clearly decaying digital radio service?
The only interesting thing to posit is how Next Big Sound could integrate with SiriusXM's satellite radio service once the acquisition finalizes.  Could we eventually see SiriusXM stats integrated into Next Big Sound?
We'll find out soon enough.
---
Featured image by Pandora.