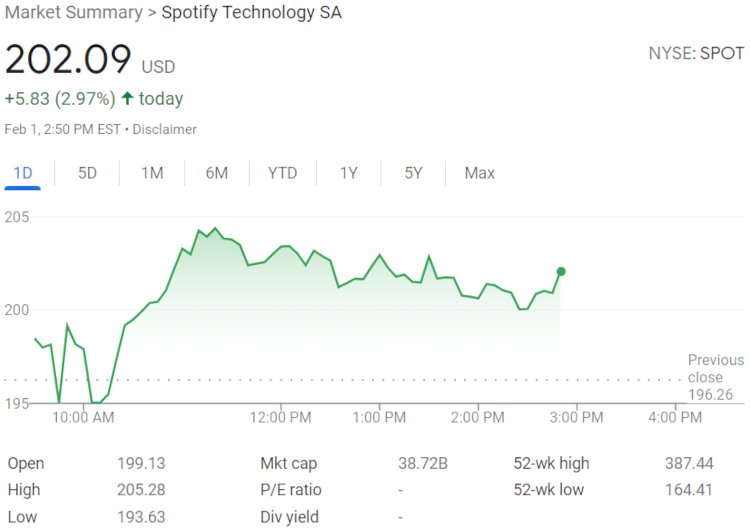 Despite having suffered a double-digit valuation decline since 2022's beginning, Spotify stock (NYSE: SPOT) has quietly rebounded by about 17 percent this week, as some analysts claim that shares are undervalued.
At the time of this piece's writing, Spotify stock was worth $202.09 per share. The figure marks a 2.97 percent boost from yesterday's close as well as a 16.81 percent hike from SPOT's value as of Friday afternoon, $173.01.
While Spotify stock is still down roughly 17 percent to this point in 2022 and nearly 40 percent from February 1st of 2021, when shares were hovering around $330 apiece, the recent rebound could mark the beginning of a broader comeback. Of course, the precise trajectory and timing of said potential comeback will likely depend in large part upon Spotify's Q4 2021 earnings specifics, which the company will release tomorrow.
As mentioned at the outset, however, some analysts are finding value in SPOT ahead of the Stockholm-based company's performance report.
To be sure, Citi's Jason Bazinet upgraded his Spotify and Netflix stock ratings – the latter company's shares have tumbled by about 24 percent in 2022 – to "buy" yesterday, indicating his belief that the music-streaming giant can bolster revenue via "ad-supported monetization."
"While Netflix and Spotify may see more modest sub growth, we see other top-line vectors," continued Bazinet. On this front, it's worth noting that some financial professionals have touted Spotify's perceived potential in the long term, as something of a one-stop audio-entertainment option.
Specifically, Amsterdam's The Guardian Fund in early 2021 predicted that SPOT could be valued at five times as much by 2030 – or approximately $1,750, factoring for the stock's price at the time. And Worm Capital subsequently expressed the view that Spotify "will ultimately prove out to be the Google of audio."
Other analysts have more recently taken positive positions on SPOT, and even relatively cautious forecasts like that issued by Monness Crespi's Brian White – who acknowledged the wider tech-stock selloff – have come with growth-minded target prices.
Monness Crespi set a $240 Spotify stock target price – down substantially from a previous $380 target, but still a roughly 20 percent improvement from SPOT's current worth. Lastly, regarding the controversy surrounding The Joe Rogan Experience, multiple other financial experts have downplayed related events' impact upon Spotify stock's outlook and 2022 loss.
"I think the reaction actually is absolutely about Netflix," Wells Fargo senior equity analyst Steven Cahall told CNBC's Closing Bell. "I mean, certainly what's gone on with Joe Rogan hasn't been helpful, in line with this broader NASDAQ tech selloff that we've seen in the market.
"But I think most of what's gone on in Spotify over the last couple weeks is that the biggest streaming company by revenue in the world, and that's Netflix, has really had a stumble in its growth trajectory. And that's called into question the growth trajectory of every streaming company.
"But I never thought that what was good for Netflix was bad for Spotify, because Netflix is all about exclusive content, it's about long-term pricing power, and it's really about differentiation in the mind of the consumer. And Spotify is just not about that. They have a very limited amount of differentiated content; Joe Rogan is one of those things.
"But it's a very small percentage of listening. Most of the listening is stuff that's available on every other audio service out there – and that's the music catalog and the vast majority of the podcasts that Spotify does not own," he continued.
During the same discussion, Benchmark's Matthew Harrigan (whose firm has issued a buy rating and a $300 target price for SPOT) reiterated that Spotify paid Joe Rogan a reported $100 million as part of its three-year deal for his namesake podcast.
Consequently, in spite of the numerous headlines and ample controversy generated by the partnership – involving everything from removed episodes, concerns on the part of Spotify employees, allegedly transphobic remarks, and much else – the initial period of the agreement, which Rogan and Spotify inked in May of 2020, is quickly winding down.