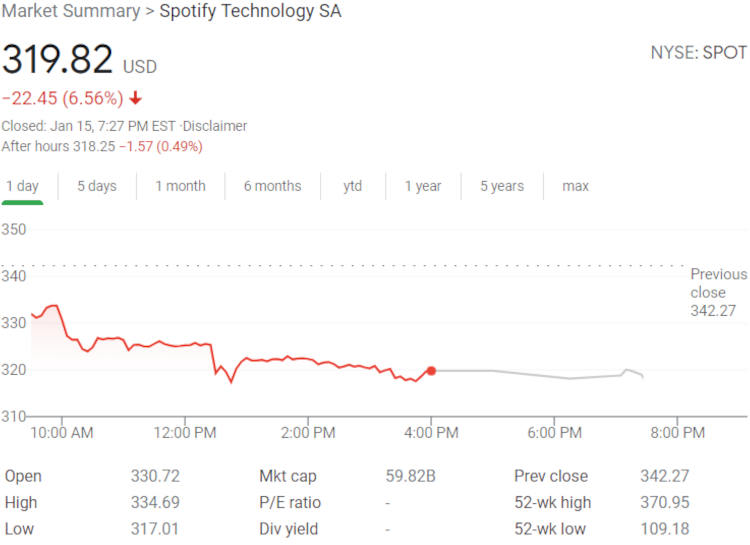 Spotify stock (SPOT) has dipped in value following a Citigroup rating drop from "neutral" to "sell." Citi expressed serious doubts about podcasts' ability to attract and retain premium subscribers.
Citi analyst Jason Bazinet recently unveiled his bearish stance on Spotify stock, which recorded substantial gains in 2020 and reached yet another all-time-high per-share price ($370.95) earlier this month. For additional context, Spotify shares were worth about $152 apiece at 2020's start and dipped as low as about $109 apiece during the domestic onset of the COVID-19 pandemic in March.
On the heels of a modest rebound in April of 2020, SPOT took off in May after the Stockholm-based platform announced that it would become the exclusive home of the ultra-popular Joe Rogan Experience podcast. By June's end, shares had cracked $260 each, and many financial professionals relayed when explaining their bullish target prices that podcasts – including programs from the DC Comics world, Addison Rae, and Michelle Obama, in addition to JRE – could help the company to achieve long-sought profitability.
(On the other side of the coin, virtually all the investors who voiced a bearish position on SPOT indicated that they don't expect podcasts to be a major source of near-term revenue.)
Shares approached $300 apiece multiple times throughout the remainder of the year, but subsequently dipped beneath $250 on each occasion. (One such fall arrived following the release of Spotify's Q3 2020 earnings report, in which the company reported strong subscriber additions but limited growth in podcast engagement.) Moreover, SPOT proceeded in December, when new JRE episodes became available solely on-platform, to blow past $300. This uptick set the stage for the aforementioned record high in the new year.
These points bear reiterating because they – in coordination with the ambitious target prices and stock ratings issued by other investors in recent weeks – demonstrate the high hopes that many financial professionals have for podcasts on Spotify. The chief reason behind Citi's downgrade, uncertainty surrounding podcasting's potential to generate new subscribers and revenue, may have contributed more to SPOT's dip than the downgrade itself.
To be sure, Spotify shares closed at $319.82 apiece on Friday, January 15th – an almost seven percent falloff from Thursday and just $9.82 above Citi's new target price, which increased (despite the "sell" rating) from $270 to $310. Citi and Bank of America's respective SPOT target prices are now separated by a staggering $118, and Spotify's quick-approaching Q4 earnings report (slated for February 3rd) appears poised to have a significant impact upon the stock's trajectory.
Assuming that Spotify continued to add paid accounts in 2020's fourth quarter, it'll be particularly interesting to see how many of the platform's over 320 million monthly active users (MAUs) enjoyed podcasts. The service gained about 400,000 podcasts in Q3, upping its total library to some 1.9 million, but just 22 percent of MAUs "interacted with" at least one of the programs.
As December marked the first month of true Spotify exclusivity for The Joe Rogan Experience – while the streaming service continues to make additional multimillion-dollar podcasting investments – it appears that all eyes will be on the percentage of users who've engaged with podcasts. SPOT could continue its ascent or part with further value depending upon whether the engagement figure aligns with that which bullish or bearish investors are banking on.