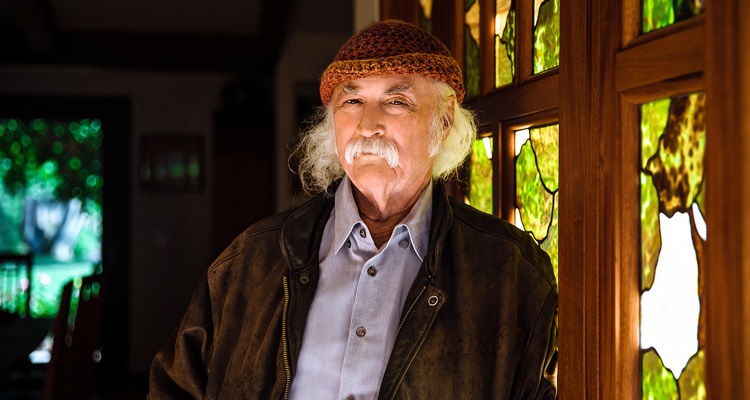 In December, The Byrds cofounder David Crosby revealed preliminary plans to sell his catalog because of touring's pandemic-prompted pause and because "streaming stole my record money." Now, the 79-year-old has officially cashed in on his music IP, calling the corresponding deal "a blessing."
David Crosby sold his publishing and recorded catalogs to Irving Azoff's Iconic Artists Group (IAG), which purchased a controlling stake in The Beach Boys' catalog last month. IAG hasn't revealed the financial terms of the Crosby catalog acquisition – encompassing his solo projects, his work with The Byrds, his releases as part of Crosby & Nash, and more, per Azoff's Pollstar – but the former buyout reportedly cost $100 million to $200 million.
Crosby addressed his catalog sale in a statement, underscoring the above-mentioned remarks that he made on social media in December.
"Given our current inability to work live, this deal is a blessing for me and my family and I do believe these are the best people to do it with," said the Los Angeles native Crosby, who hadn't taken to Twitter to comment on the transaction at the time of this piece's writing.
Crosby is still active on social media, however, with his newest posts having centered on the 50th anniversary of his debut studio album, If I Could Only Remember My Name. And in a statement of his own, Irving Azoff emphasized that Iconic will work to preserve and maintain the professional legacy of David Crosby in the coming years.
"I've known David as a friend and have admired him as a great artist since our earliest days at Geffen Roberts Management shortly after I moved to Los Angeles," said the (non-performer) Rock and Roll Hall of Fame inductee Azoff.
"This is an incredible time to be involved with David and his tremendous catalogue of music. He's truly one of music's most prolific songwriters and artists and I'm honored he has made Iconic the steward of his timeless musical legacy," finished the 72-year-old management mainstay, who struck a similar tone when discussing Iconic's Beach Boys deal.
Recent months have brought all manner of high-profile catalog sales, including transactions involving Stevie Nicks, Shakira, Mick Fleetwood (solely for his recorded catalog), Lindsey Buckingham, and many others. Plus, Universal Music Group – which reportedly paid north of $300 million for Bob Dylan's catalog – experienced double-digit growth across its UMPG division in 2020.
In addition to Iconic, UK-based Hipgnosis has continued to invest substantial sums in music IP, while Round Hill music raised nearly $300 million in a November of 2020 IPO and kicked off 2021 by closing two purchases. Separately, Paul McCartney indicated in a recent interview that he doesn't plan on selling his catalog anytime soon, despite the rise in demand and sales prices.