A new controversy could harm SoundCloud's chances of remaining a viable streaming music alternative for music fans.
SoundCloud didn't have a stellar 2017.
Due to a lack of a sustainable business model, the streaming music platform faced the threat of bankruptcy.  Multiple top executives jumped ship early last year as the company struggled to raise enough money to keep operating.  It then had to close its luxurious offices in San Francisco and London.
In just one year, the company's valuation fell 75%.
Underscoring the company's poor financial health, SoundCloud later suddenly dismissed 173 employees.  The company's co-founders then admitted to its remaining staff members that it only had 50 days of cash.
After receiving $170 million in an emergency bailout package from investors, the company fired its CEO, Alexander Ljung, in July.  He vowed to remain in the company that he largely helped sink.
Today, as top executives desperately try to keep the company afloat, SoundCloud faces an uncertain future.  The platform has lost more than 100 million users since 2016.  It likely won't become profitable until 2020.  To make matters worse, Holly Lim, SoundCloud's CFO, abruptly left the company three months ago.
Now, a new controversy threatens to harm the company's long-term recovery efforts.
Listening to your favorite songs, but in significantly worse audio quality.
Several days ago, Joseph Lyncheski (better known as Direct) made an interesting discovery.  The New Jersey-based music producer found that SoundCloud has dramatically decreased its sound quality.
Direct tweeted,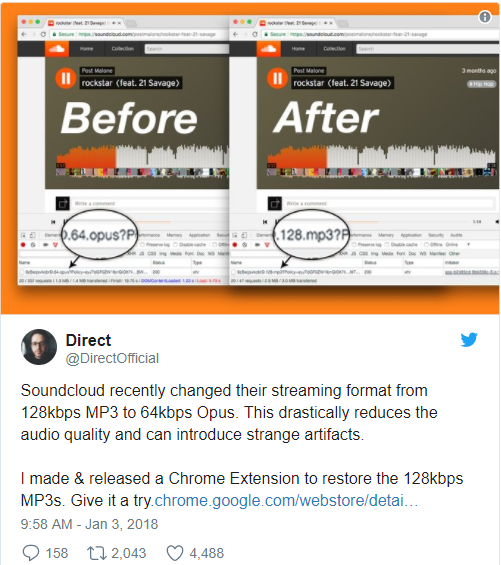 To restore the platform's original sound quality, Lyncheski released a Chrome extension dubbed SoundCloud Quality Restore.  The description reads,
"Soundcloud Quality Restore blocks the loading of Opus/Ogg Vorbis files on Soundcloud.  The 64 kbps Opus files Soundcloud is loading are significantly worse sounding than the 128 kbps MP3 files Soundcloud has been using for years."
The streaming music platform has long compressed audio files to 128 kbps MP3 to speed up streams.
In a statement yesterday, SoundCloud vehemently denied the reports.
Calling them "inaccurate," the company explained that it stores all content from creators in its "original uploaded quality."
"We always appreciate feedback, but these reports are inaccurate.  SoundCloud has not altered its approach to audio quality.  We have been using the Opus codec (among others) since 2016, and we regularly test different combinations of encoding and streaming to offer listeners a quality experience on any device."
Opus, .ogg's successor, is normally a higher-quality format than 128 kbps MP3.
Lyncheski followed up his initial tweet, stating that the streaming platform may have used an older version of the Opus codec.  This, in turn, produced lower-quality audio streams.
As the company struggles to regain a foothold in the streaming music market, its 'tests' could ultimately push music fans away from the service.
---
Featured image by SoundCloud