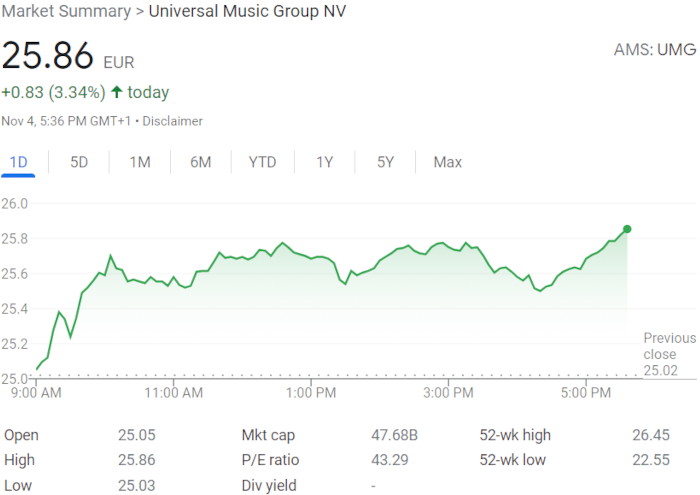 Universal Music Group stock (AMS: UMG) jumped 3.34 percent during trading today and finished at a day-end record of €25.86 ($29.88 at the present exchange rate) per share when the market closed.
The all-time-high day-end value of Universal Music Group stock arrived about six weeks after Vivendi officially listed the Big Three record label on the Euronext Amsterdam. Moreover, today's per-share price elevated UMG's market cap to approximately €47.68 billion ($55.09 billion) and could allow the leading label's shares to surpass €26.45/$30.56 each, which they just briefly reached during the company's first day of trading.
Like with every market movement, it's difficult to pinpoint the precise reason(s) behind the ascent of Universal Music Group stock. But it bears mentioning at the outset that Universal Music, Sony Music, and Warner Music alike – along with several other music-industry companies – continued to post double-digit year-over-year revenue hikes in their newest earnings reports.
Last week, UMG in its first post-IPO performance analysis turned in a 16.1 percent year-over-year revenue increase, for instance, with income for Q3 2021 having surpassed €2.15 billion ($2.48 billion). And with double-digit YoY revenue gains to its credit for the three months ending on June 30th, Warner Music – which cracked a record stock value immediately following UMG's IPO – has quietly experienced a 32.38 percent stock-price boost since 2021's start and an astonishing 80.31 percent jump from the same point in 2020.
Next, amid these double-digit revenue gains as well as record closes for the S&P 500 and NASDAQ that could be driving trends throughout international markets, Universal Music Group in recent weeks has made several noteworthy plays. In terms of creator agreements, UMG signed K-pop mainstay BTS, inked a "global partnership" with Andrea Bocelli, closed a "strategic global alliance" with Aerosmith, and, via UMPG, finalized a publishing deal with Lionel Richie.
On the expansion side, Universal Music has continued to bolster its presence in China (regarding both recorded and publishing operations) and Africa. The latest development on the latter front – UMG has taken other steps in 2021 to heighten its reach in the continent of over 1.2 billion people – arrived in the form of an "exclusive" partnership with Senegalese singer-songwriter Youssou N'Dour and his publishing company.
Africa's music industry is expanding rapidly, and in one of many testaments to this ongoing expansion, Paris-based Believe recently reported a 58 percent YoY revenue hike in Asia Pacific and Africa.
Lastly, Universal Music has launched labels with Tomorrowland, Anderson .Paak, and composer Jatinder Shah (focusing on Punjabi music), besides rolling out indie-focused Imperial Music via Republic Records. And the major label today revealed that it's working with BTS agency Hybe to try and create a U.S.-based K-pop girl group.