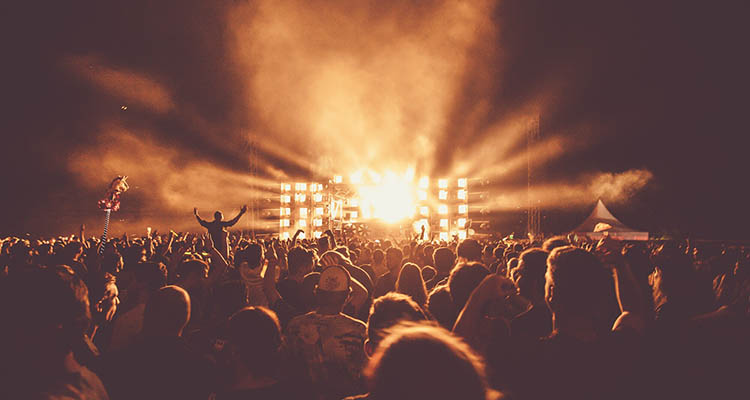 Despite some adults' reluctance to resume enjoying crowd-based entertainment before fall – and an array of early 2021 event cancellations – evidence suggests that many fans will have the chance to attend full-capacity music gigs this summer.
Though live-entertainment professionals including Live Nation CEO Michael Rapino have long expressed the hope that non-socially distanced music gigs would return this summer, other industry experts (like Lollapalooza co-founder and former William Morris Endeavor global head of music Marc Geiger) have specified that they believe the comeback will arrive later in 2021 or even next year.
Exacerbating the situation's inherent uncertainty, 2021's opening quarter brought with it the cancellation of tours from Halsey, The 1975, and Taylor Swift as well as festivals including Glastonbury, Coachella and Stagecoach, Lightning in a Bottle, and multiple CTS Eventim-organized happenings.
However, factors like the continued rollout of COVID-19 vaccines appeared to contribute to several promising developments to this point in the year's second quarter, as Rolling Loud organizers revealed in April that their festival will take place in Miami in July.
Travis Scott's Astroworld – scheduled to span two days for the first time – sold out in less than one hour without an official lineup, and Jason Aldean, Enrique Iglesias and Ricky Martin, and Bon Jovi detailed plans to deliver performances to fans.
Building upon the points, Insomniac's Abduction Music Festival took place in Orlando about one month ago – two weeks before Endeavor welcomed north of 15,000 fans to UFC 261, also in The Sunshine State – and non-socially distanced music gigs are poised to begin arriving in states besides Florida.
To be sure, Cincinnati, Ohio, venues such as the Riverbend Music Center, the PNC Pavilion, and the Taft Theatre have revealed that they will host full-capacity gigs without a mask requirement this summer. Governor Mike DeWine, for his part, has announced that Ohio's statewide mask mandate will end on June 2nd.
Additionally, Los Angeles's famed Hollywood Bowl intends to reopen at full capacity this summer – albeit while requiring guests to sit in different sections depending upon whether they've received a COVID-19 vaccine.
As a pertinent aside, Disney CEO Bob Chapek relayed during his company's most recent earnings call that Disney World could soon end its mask requirement and increase its capacity, owing to the updated Centers for Disease Control (CDC) guidelines released this week.
Government officials have also lifted the longstanding mask and capacity limits in Nashville, Tennessee, and Minnesota Governor Tim Walz, North Carolina Governor Roy Cooper, and Michigan Governor Gretchen Whitmer recently rolled back mask mandates and/or gathering-size rules.
Lastly, on the artist side, Dead & Company this week unveiled plans for a 31-date 2021 tour, which will kick off in Raleigh, North Carolina, on Monday, August 16th, and wrap at the Hollywood Bowl on Halloween. Korn is scheduled to begin a 28-city tour in Florida in August, whereas tickets to country artist Dierks Bentley's Beers on Me Tour (slated to initiate in August as well) went on sale today.
Needless to say, these developments appear promising for fans, venue owners, and, most significantly, artists, who have experienced severe financial hardship due to the unprecedented live-music disruption ushered in by the COVID-19 pandemic and its associated lockdown measures.
Worth noting in conclusion, as yet another indicator of music gigs' seemingly imminent return, is that Live Nation stock increased in value by 5.56 percent during today's trading hours, for a per-share price of $85.80 – relatively close to its all-time high of $94.63 per share.